As a content marketing agency, we plan and craft a LOT of content. Sometimes it's hundreds of pieces a month: blog posts, landing pages, social posts, carousels, Reels, short videos, ads… you get the picture. It may sound crazy-making—but it doesn't have to be.
The trick? Thoughtfully determining which stories to tell, and then telling each story in a "package" of content published across channels, and time.
What a Story Package is and How it Works
Every story package (a term we coined) is, in essence, a kind of mini content campaign that most often includes: a search-optimized, long-form blog post; a series of social media posts, stories, and short videos; and suggested ads, boost recommendations, plus suggestions for amplifying via influencers or partners.
It's a strategic, story-first, and uber-efficient way to plan and produce content.
It expresses one of your important brand stories first in a juicy, knowledge-rich piece of "anchor" content that tells your story in depth (this might be a long-form blog post for your site, an information-packed article you publish on LinkedIn or Medium, or maybe a podcast, a beautifully produced video, or even an e-book or full course), which you can then also express in smaller pieces of content (some call it "micro content") across a range of channels.
The Value of Story Packages in Building Brand Trust and Growth
At first, it might not sound groundbreaking. Blogs, Instagram posts, short-form video, promos—you've probably created all of these pieces at one point or another. But story packages bring them all together under one narrative umbrella spanning platforms. As a result, the stories they tell are bigger, better and more engaging.
Here's why story packages are greater than the sum of their parts:
You get more mileage out of your content. Pulling together a thoughtful, long-form content piece takes a lot of effort, so why not make the most of it? When you package your storytelling with persuasive social posts, vibrant visuals, infographics and more, you keep the conversation going long-term.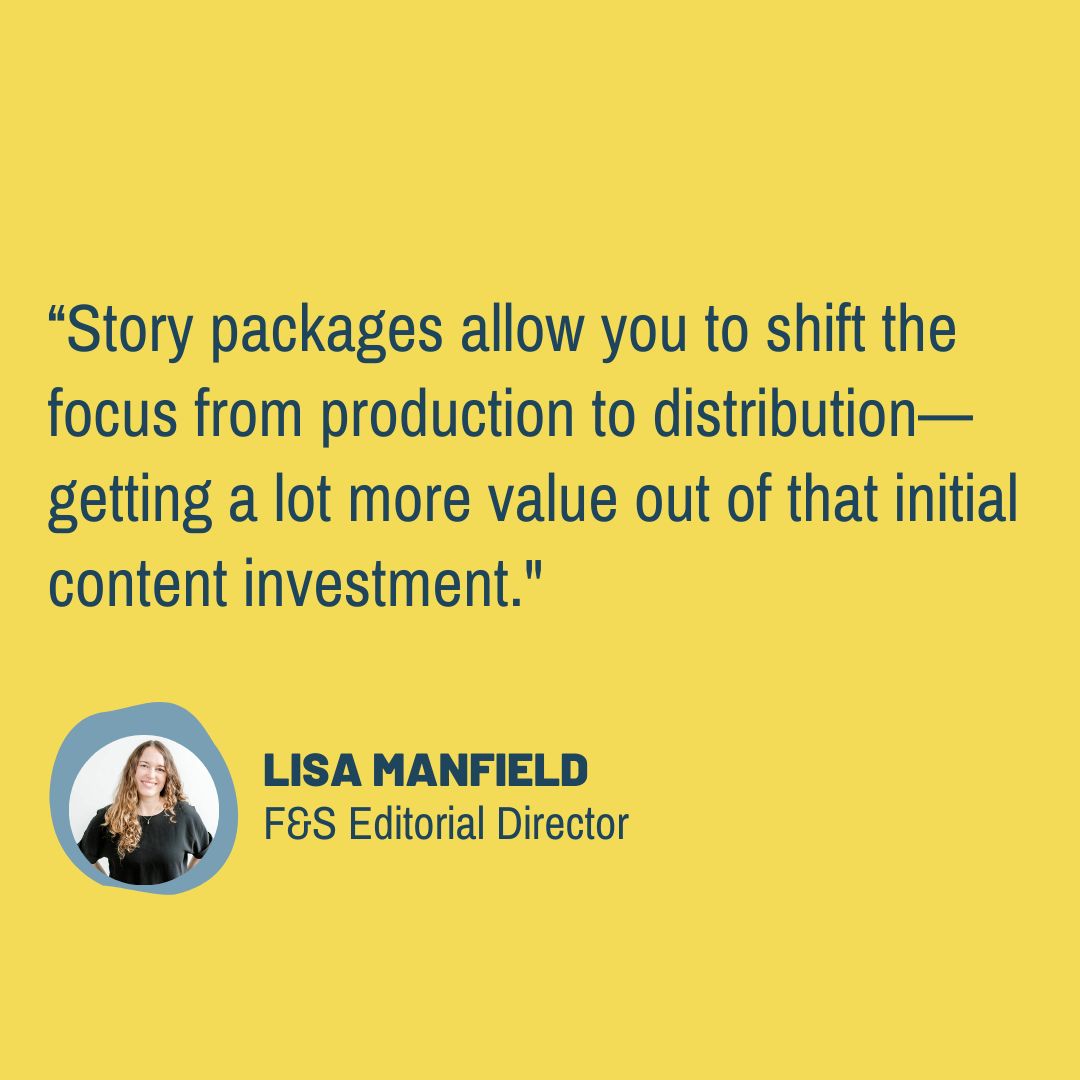 You tell deeper stories.

By weaving together a tapestry of pieces like blogs, videos, and social media posts, you create a more immersive and engaging experience for your audience. And keep 'em coming back for more.

. By weaving together a tapestry of pieces like blogs, videos, and social media posts, you create a more immersive and engaging experience for your audience. And keep 'em coming back for more.
You engage more people, in different ways. Highlighting different aspects of your theme in different ways—on multiple platforms—means you cater to different tastes and preferences. Think of it as adding all kinds of entry points to your topic, for different kinds of readers and viewers.
You step off the last-minute-content treadmill. An overlooked benefit of packaging—and batch production in general—is that you plan ahead for months' worth of posts. Yes, you can trade last-minute scrambling and reactive posting for thoughtfully planned, premium storytelling. Doesn't that sound delightful?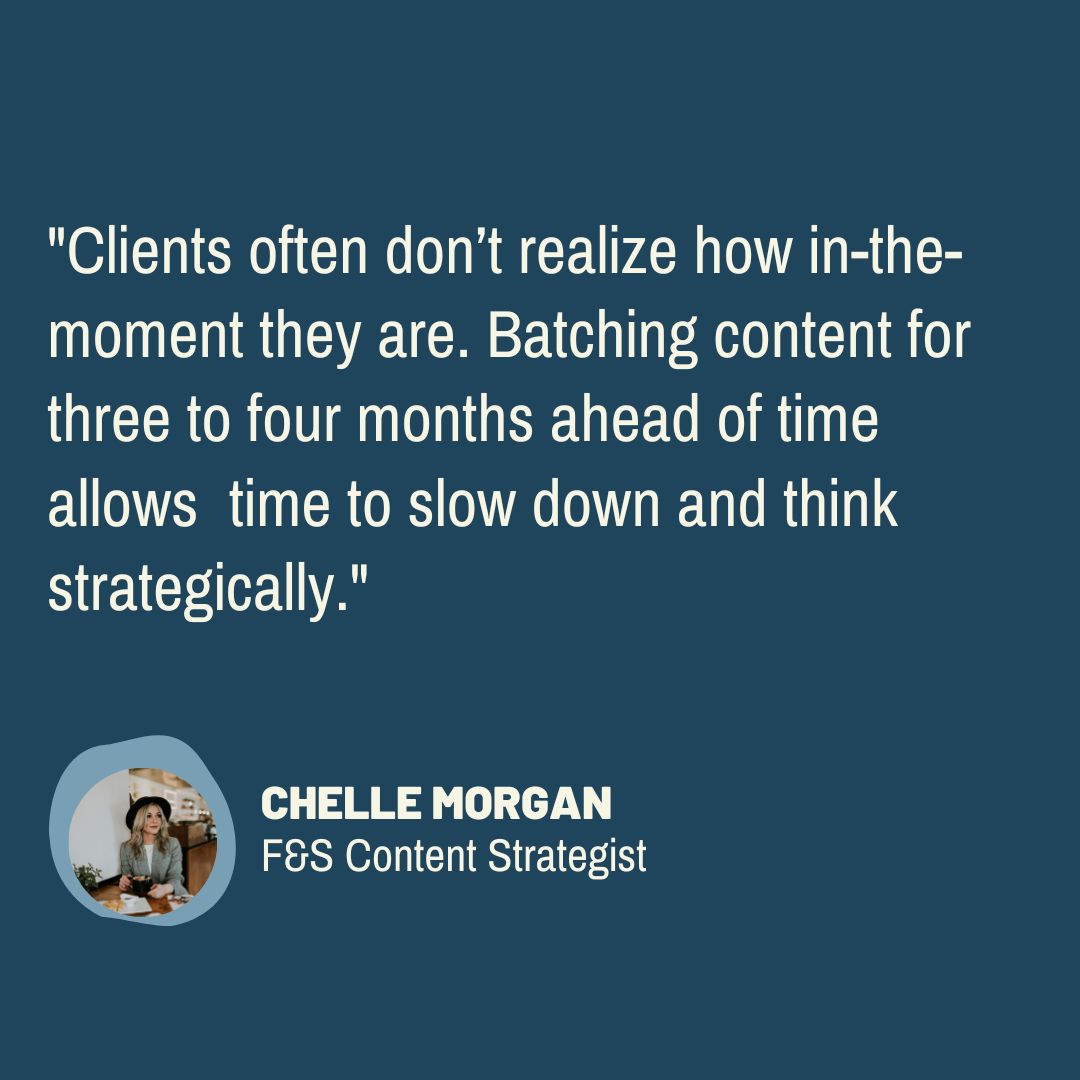 You build trust with your audience. Story packages allow your brand's expertise and purpose to really shine, by giving you a bigger platform to be authentic, relatable and transparent. Which is SO important for purpose-driven brands. Plus, bonus goodwill: your audience will love that you're sharing something of real value to them, because it's genuinely thought-provoking. Or poignant. Or funny. Or bookmark-able.
You drive traffic to your website. Don't sleep on the boost! Social links to your site magnify your page views and are trackable, to boot. But story packages generate other SEO benefits, too; for instance, by linking related content together and creating a more comprehensive and valuable resource for your audience. This can raise your search engine rankings and drive even more traffic to your site. All of which helps your brand appear more relevant, trustworthy and premium. That's the dream, right?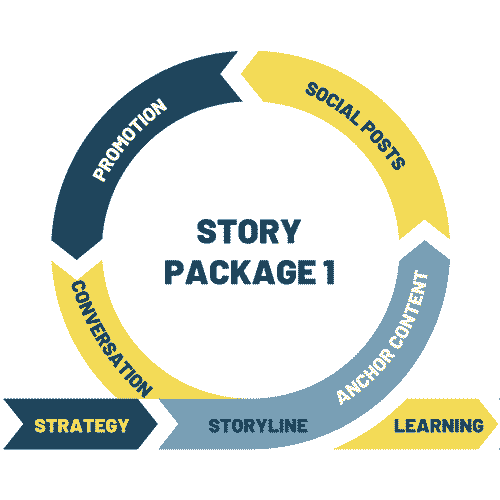 How to Create and Amplify a Compelling Story Package
This is the basic process we follow to create story packages that inspire and engage:
Get clear on strategy
With each of our clients, we do the work up front to clearly identify:
Their OKRs (what they want to achieve);
Their audience (who they need to reach, engage and persuade in order to meet their goals); and
Their key stories and messages (what they need to say to their audience in order to reach their goals).
Even if you don't have the time to complete this kind of full strategic roadmap for your brand, take a moment to consider the brand stories that are strategically most important for you to tell.
Choose the storyline
Ideally, in your strategic work, you'll have identified your most important brand story pillars: the key themes to guide your storytelling, in order to achieve the results you seek. Your actual story topics—and stories themselves—will spring from there.
You might start by defining an overarching topic you're going to tackle. It should be multifaceted and meaty; broad enough to spawn plenty of side-stories and spinoffs, but specific enough to tie them all together.
An example? This post. Our agency's own story pillars include: Leading with Purpose, Premium Quality Content, and Our Work. This post is a story that fits under two of our key pillars (and yep, you can do that!): Premium Quality Content, and Our Work for Clients— telling the story of how we invented a solution to content overload that doesn't sacrifice thoughtfulness, quality, or authenticity.
If you're struggling with what to talk about, specifically, this article has some great thought starters. These are a few of the ideas we often share with clients for inspiration:
Conversations that come up over and over on your social pages
Common questions that your front-line folks and sales teams hear from prospects
Deep dives into trends or recent events in your industry, bringing your unique 'lens' to them
Stories that put your people or your values front and centre
Once you've settled on something, don't forget to do a gut check: does this topic align with your purpose and your business strategy? Who will you be talking to and why? Why now? Will it help you meet your content goals in any way?
Find the anchor
This is the long-form centrepiece of your story package. Think a sparkling blog post, a juicy piece of web content, an ebook, a tutorial, a long-form video, or even a podcast. The form—and platform—it takes will depend on the subject matter, your expertise, and where your target audience likes to engage.
Map out your social plan
These are the short-form pieces of the package; thoughtfully crafted posts on your social channels that drive back to the anchor piece. These should speak directly and authentically to your audience personas, inspiring them to click and engage.
For each planned post, we begin with a creative concept that helps to guide visuals and wording—noting which facet of the broader story it will highlight. We also consider the intention of each post. For example: what kind of multimedia or post format will stop followers in their tracks? A high-impact photo carousel? A quirky Reel featuring trending audio? Whimsical infographic?
Whatever the story's intention, aim to strike a balance of post types and imagery across the package. A set of varied and beautiful visuals created in your brand's visual style tells a more complete story, and grabs more engagement. Yes, it helps to have a brilliant designer or two like ours on the team … and they can help you, too.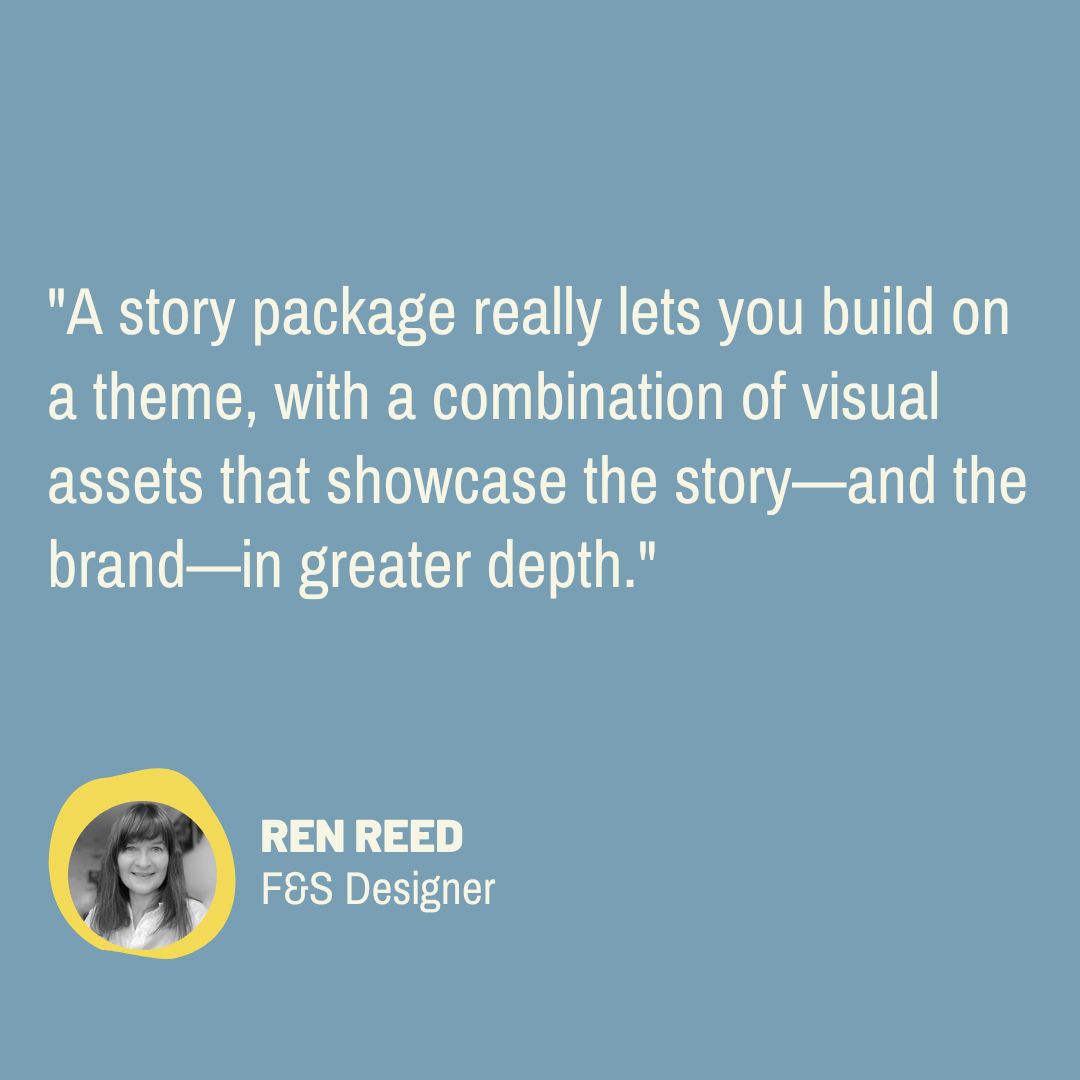 Amplify your content with ads, promotions and partnerships
You've invested time and thought in your content. Here's where you can ensure it gets in front of, and connects, with your audience. Ads pointing to your content from search engines and/or social platforms, boosts of the social posts themselves, promotion of your content on your e-newsletter, cross-links within your site, smart SEO on your long-form anchor content, associated lead magnets, even a sales funnel that starts with your content strategy. There are endless ways to ensure your story package gets in front of a wider audience—and gets results for your business
Consider the long run
Perhaps THE most valued piece of the package approach, according to, um, all of our clients, is the delight of scheduling all the content in—and seeing how much there is, and how long it stretches into the future. We have, for example, created story packages that include enough posts for up to six months. (We don't recommend going much further than that without checking in on your "anchor" content to be certain it stays premium and up-to-date). Even better? When we start to deliver multiple story packages in a month. The calendar gets positively chock-a-block with thoughtful, on-brand content telling strategically sound stories, beautifully.
Schedule, listen, and talk back
Choose your social media scheduling tool to schedule this beautiful batch of content. Our favourite combo involves mapping it all out first in Asana, tasking out the various production pieces there (SEO research, interviews, drafting copy, hashtag research, visual production, reviews and approvals, etc.), and then using Sprout Social to schedule it all for publication. But this isn't a "set and forget" proposition. You'll want to pay close attention to how the content is received, and whether questions are asked—and engage accordingly.
Analyze and iterate
Making the time for reporting and analysis of your content is, quite simply, essential in giving you the intel you'll need to make your story packages better in the future. Go back to your goal-setting and OKRAs and really tune in to which key results you care most deeply about. Then assess how well your content is helping you achieve those results. We involve our entire content team in reviewing and analyzing our reports every month, with clear and actionable takeaways for the next story package or content batch.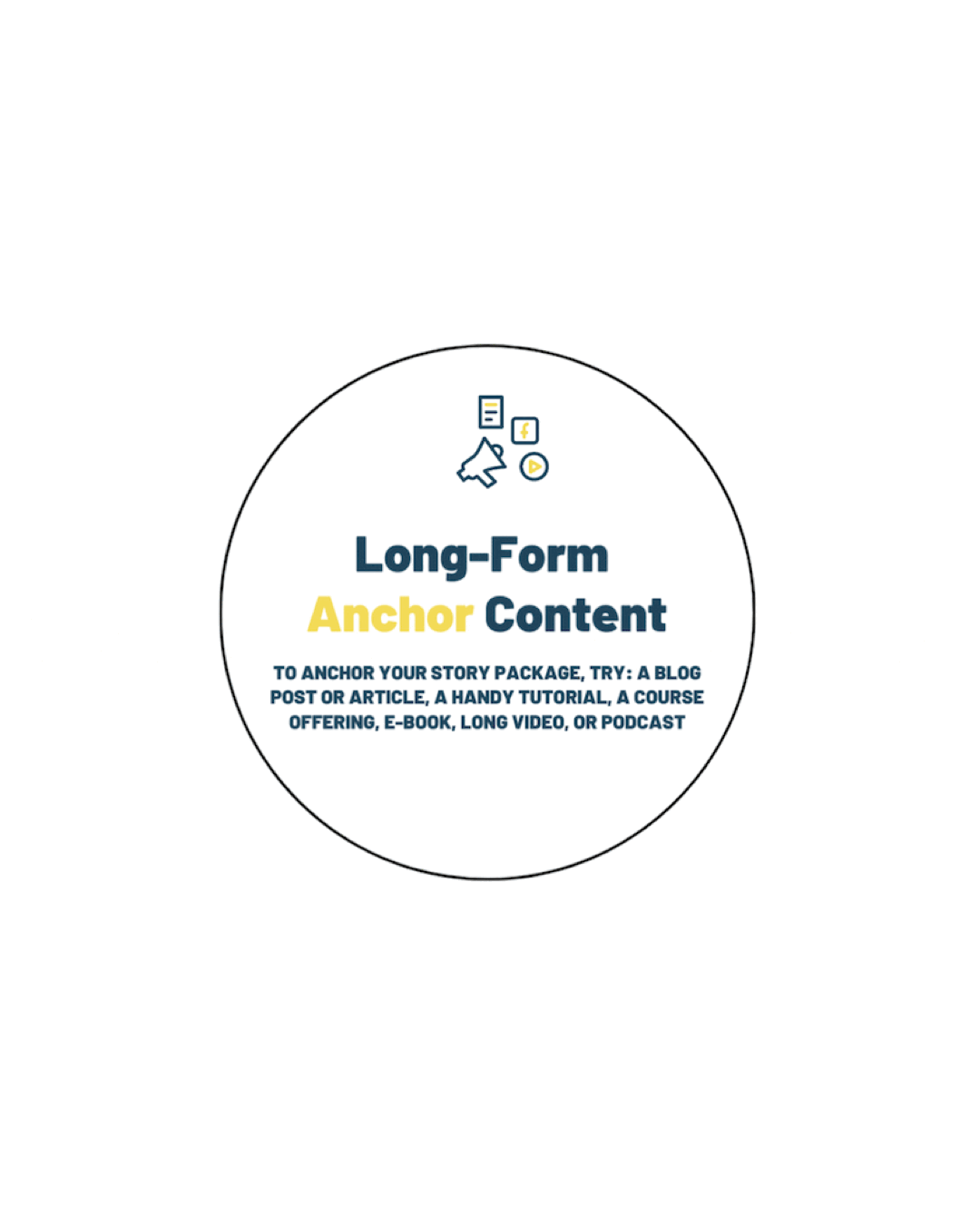 Pulling the Pieces Together: A Sample Story Package
As the graphic above shows, one anchor can launch dozens of satellite pieces across your channels.
How does that look in practice? Well, let's use this verrrry anchor piece as an example! Here are some of the micro-content elements we built to round out our "story package about story packages"—leveraging our main social channels of LinkedIn and Instagram:
(We'll link 'em as they go live.)
A persuasive post announcing the story across channels
A callout and snippet in our e-newsletter
Educational carousels on LinkedIn and Instagram
A fun Instagram meme related to way we want our audience to feel about story packaging
A lead magnet and how-to email thread relating to the anchor content
Posts highlighting the story's infographics shared across social channels
A bold visual quote from the article shared on Instagram and Facebook
An Instagram Reel recapping the big benefits of story packages
Your Brand, Our Process: We Make Story Packages Simple
Convinced story packages can deliver value, but daunted by all the moving pieces?
You're in luck. Our specialty is working with purpose-driven brands to create deep, compelling and, we'll say it—darn beautiful—story packages, that speak to your audience in just the right way.
With every story package, we deliver:
Clarity: We conduct creative and strategic collaborations to virtually bring together the right stakeholders, charting a clear course of action for each story package.
Impact: We take fierce pride in telling authentic stories in a way that genuinely connects people—and that delivers on our clients' KPIs
Relief: Clear process, empathy, and kindness are our keys to earning your—and the audience's—trust.
And who doesn't need a little of all three in their life? 💛
We create effective, beautiful, content marketing and custom story packages for B Corps and purpose-driven brands—and we'd love to do the same for you. Let's talk!