There's a TV commercial that's been playing during the nightly news for the last few weeks of this Covid-19 pandemic. In it, a recognizable fast food brand spokesperson sheds his typical script and branded attire, and instead, clad in only a plain T-shirt, recites a long list of thank yous to health care providers, front-line workers and food service workers. 
The sentiment is nice. And coming from someone else it might have felt more genuine. But something about this commercial is just so far off-brand from the typically comedic approach taken by this spokesperson that it grates on my nerves every time. I'm at the point where I need to change the channel when it comes on. It just feels disingenuous. 
Many brands are changing up their messaging right now. And that's a good thing. But crisis communications can be challenging to get right. Especially when you're navigating uncharted waters like we all are right now. Any faux pas can damage relationships with customers.
Of course, staying silent isn't the answer either. Audiences want to hear from brands right now. Customers are hungry for information, for contact and for hope. And brands can provide it — if they get their messaging right.
So what's a brand to say?
Is it okay to keep marketing our wares? What messaging do customers need and want right now? Do we need to mention Covid-19 in all of our messaging? And how can we ensure we stay on-brand at the same time?
A survey in early April 2020 by Ace Metrix showed that consumers are open to brands addressing Covid-19, but with the proviso that they were looking for positive, uplifting messages. The study found that:
Unity and resilience are themes that resonate right now
There must be a strong connection between the brand and its message
Audiences don't just want words, but action, too — 75% of consumers believe brands have a responsibility to help out during the pandemic
It can't all be serious: people are still looking for humour, diversion, even entertainment — so likeability and good storytelling matters, perhaps more than ever.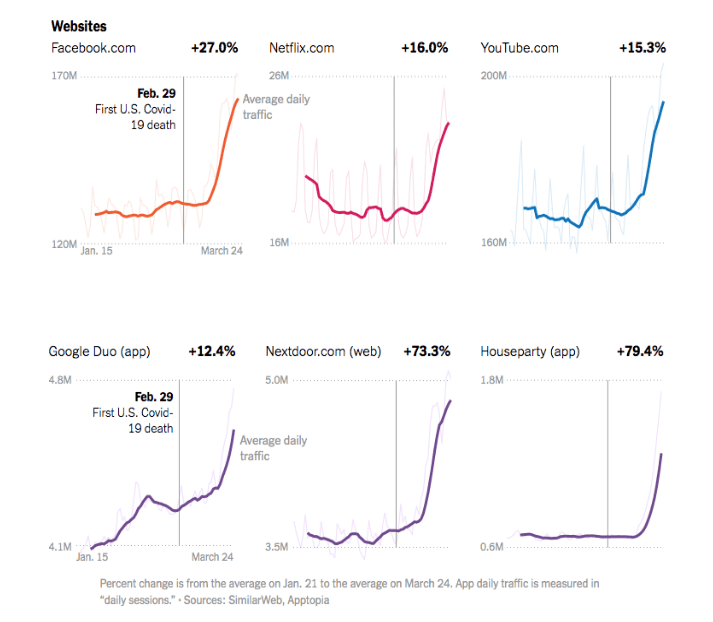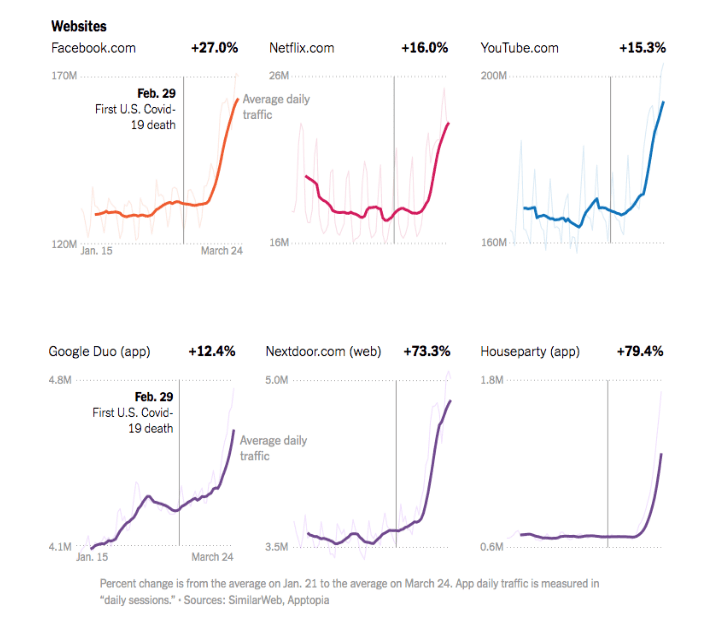 Furthermore, our audiences are out there, listening. Facebook reported a 50% increase in messaging in March vs February. Views for Instagram Live and Facebook Live doubled in one week in April. The New York Times reports, in an article called The Virus Changed the Way We Internet, that many of us, too, are seeking out brand new ways to connect using tools and platforms that such as Zoom, Nextdoor, HouseParty—to name a few.  
Brands are rising to the challenge.
How to make great content, even in challenging times
Making great content goes back to four core rules that apply no matter what the circumstances:
Know your intention: What's your key message and why is it relevant to your audience? Set clear goals and have a clear call to action—if applicable. 
Check to ensure that your call to action is genuinely useful to your audience in light of all that's going on in the world. If it's not, change it to something that is.
Know your audience: Who are you speaking to and what do they care about? Tailor your content to their needs. 
Deliver value: Be helpful to THEM in a way that accomplishes your GOALS. 
Connect on a human level: Humanness for us means kindness, asking questions and telling stories about real things. Be real and stay true to your brand.
We've been looking at a lot of content since the Covid-19 crisis began, and what we've noticed is that some brands are doing a great job of reading the room and adjusting their messaging accordingly. Here are a few examples of recent content we love. 
T-Mobile holds off on its regular April Fool's pranks
Much as we love a good April Fools prank, this year, when people were more concerned about health and safety issues, it was clearly not the time to joke around. 
Blue Grouse supports a timely cause
This April has been no ordinary BC Wine Month. That's why this Vancouver Island business is donating $1 from every bottle of Blue Grouse and Quill wines sold on its premises and in stores and restaurants to the Nourish Cowichan society.
The Brunner family, owners of Blue Grouse, will also match every donation dollar-for-dollar. There are so many wineries doing the same. What a wonderful way to support a timely cause.
Lush donates soap to those who need it most
Lush makes soap, an essential product we all need now more than ever—especially those working on the frontlines.
Over the last several weeks, Lush has mobilized to deliver tens of thousands of products to non-profit organizations supporting at-risk populations in Vancouver and Toronto. Helping the helpers.
Audi gets into virtual backdrops 
What are we all doing right now? We're on Zoom. So brands are creating content that's useful—or at least a bit of fun—in that context: virtual backgrounds. The paint company Behr kicked off the trend with a beautifully painted room in the background. Car maker Audi has since chimed in with cool, whizzing cars. It's delightful and helpfully distracting. 
Local spa Fig offers at-home experiences
Fig is a local Vancouver clean skincare bar that relies on in-person experiences. They do facials. 
Their message: they miss their customers, and care about them. So they created a beautiful ambient playlist that recreates the sound and feeling of being pampered. 
What it says: "We miss being your self-care provider, here's a way to re-create that feeling at home."
Portfolio Auto Consulting creates common ground
This Vancouver-based "bespoke automotive acquisition experience for car collectors" considers what their audience is currently feeling, and shows that they can relate. They use a meme with simple storytelling that acknowledges what's going on and shows we're all in this together.
The YMCA cheerfully shares what they know
The YMCA of Greater Vancouver, one of our clients, is all about community. But what do you do when you can't foster community in traditional ways? As a community leader, you teach. You show people in beautiful illustrations how to be in the world a little differently, for now, in a friendly, helpful way. 
Here, the YMCA uses Instagram to delight and educate.
Entrepreneur Gary Vaynerchuk holds teatime daily to answer questions
Thought leaders in given areas are in a perfect place to share and teach — and whether you love him or not, Gary Vaynerchuk is out there, reminding us all that brands can have a voice. His take? It's about service right now, not necessarily sales. Help if you can, he says. 
Kristin Cavallari explains why she's still selling jewellery
In an IG Story, business owner Kristin Cavallari simply explained why she was promoting a sale for her jewelry brand Uncommon James — she stated the facts: she has 100 employees and said she'd do whatever she could to help them keep their jobs — which includes promoting her sale on Instagram. 
Welk's goes low-tech
Small businesses like Welk's in Vancouver don't always know a ton about e-commerce, but they didn't let that stop them. They got an online shop set up quickly using Google Drive to browse products. Not pretty, not fancy, but they got 'er done. 
Molson knows what its audience wants and needs
Good old Molson Canadian. They've created a super smart marketing campaign and some fun, friendly content that connects with their audience. 
The campaign is all about encouraging customers to host virtual happy hours — bringing people "together" in support of local businesses. Inviting friends to connect over a #VirtualHappyHour, Molson Canadian rewards hosts with a $25 gift card for their favourite bar or restaurant.
The story is good, they clearly know their audience, there's a need for it and everyone feels good helping out restaurants now. Well done. 
Campbell's shows reality as it is
This is Campbell's with a campaign that's all about nostalgia, family, connecting with one another while eating soup and Goldfish crackers.
I don't know about you but we've eaten a lot of grilled cheese sandwiches lately and have bought those little cans of tomato soup and premium plus crackers to eat them with… it's comfort, nostalgia…and it fits with the times. 
Sweet Farm gets animals entertaining
Sweet Farm is an animal sanctuary in California that's renting out its llamas, goats and other farm animals for Zoom calls. Its "Goat 2 Meeting" service launched in March and the farm has fielded more than 300 requests for animal cameos and virtual field trips in work happy hours and corporate meetings.
Sweet Farm cofounder Anna Sweet told Business Insider that the money made from Goat 2 Meeting would help the farm recover some of the revenue it has lost because of coronavirus lockdown orders.
Lunapads shifted to Aisle and walked their walk
Aisle emerged from Lunapads delivering desperately needed face masks in Vancouver's Downtown Eastside. For those of us who live in Vancouver, it was and is a concern—how are all of those poor souls, and the people who care for them—going to survive this? This is hope, out of nowhere. 
Their marketing: a couple of linchpin blog posts highlighting gratitude, education and empowerment plus a couple of pending mini-documentaries on Instagram. It's the most beautiful, graceful and generous pivot we've seen so far. 

Theragun put their product to work where it's needed
The founder of Theragun, a chiropractor who was badly injured in a motorcycle accident,  invented this percussive therapy device to help manage his pain. Giving back to community is one of the company's central values. 
Theragun is now donating hundreds of Theraguns to front-line workers, along with thousands of masks—actions entirely in line with company's past behaviour and values. 
Mirakind pivoted from cancer research to Covid-19 testing
Mirakind was founded as a not-for-profit research organization to bridge the gap between research and the real world. They wanted to do this by educating and breaking down barriers between doctors, scientists and patients who were eager for more information. 
When COVID hit, founder Joanne Weidhaas realized she could help. She set up https://330milliontests.org/, a donation site that lets anyone donate and help frontline workers gain access to essential tests to help keep patients, their families and themselves safe. 
Daunting for most of us, this is inspiring in so many ways as we try to grapple with uncertainty. An astounding example of trying to discover how and where you can make a unique contribution.
Momentum pivoted to raise funds for Covid research
Momentum is a technology company dedicated to 'rethinking giving'. It launched Cancel Corona, a platform dedicated to helping you do something useful with money you save by not doing something else — like not eating out or buying a daily Starbucks latte. 
When Covid-19 hit, they launched a standalone product — Cancel Corona — to help stop it. 
Make the Right Impact with Your Crisis Content
Whether your business is facing a slowdown or is busier than ever during this time, one thing is clear: this is not the time to stop communicating with your audience. 
Your customers want to hear from you. And powerful communications done well have the potential to not only endear you to your audience and set the tone for customer loyalty, but also to offer hope at a time when audiences need it most.
Grab our checklist 4 Steps to More Compassionate Messaging and let your audience know that you're there for them in this difficult time. And please sign up for our newsletter for ongoing examples of standout content plus tips and guidance on communicating and connecting genuinely with your audience.
Need a little more guidance? Forge & Spark's story clarity and refocusing services include content review and recommendations, and help with development and implementation of adjusted messaging. Book a free 30-minute consultation or contact us at hello@forgeandspark.com or 1-888-804-8282 to chat about your needs. Stay safe.