Are you sure you want to contribute to the ocean of bad B2B content out there? Take a breath before you craft that next post, or campaign. There is another way.
A Human and Brand-led Approach to B2B Marketing
So much B2B content marketing is dead boring—and, oh my gosh, it really shouldn't be.
This is something we in the content world know from experience, and deep in our gut as storytellers. But it's always nice to see some detailed research proving it's an economic truth, too.
Recently I came across this B2B Effectiveness Code, a report published by LinkedIn's B2B Institute, looking at how creativity drives business outcomes, and how B2B marketing is changing.
"B2B marketing is more effective when it's rich with purpose and values; with people, with personality, with emotion and with story."
For years, so much of it has been . . . well, not very good. As the report's author, James Hurman, observes: "As long as any of us can remember, B2B has been the domain of hyper-rational advertising that's treated its audience as emotionless robots, and scorned brand building in favor of mechanical sales tactics indifferently applied to advertising media."
But lately this has started to change, says Hurman. Brands like Slack, MailChimp, Arc'teryx and Zendesk have succeeded in building huge value through "a human and brand-led approach."
What I love so much about this is the confirmation: that B2B marketing is more effective when it's rich with purpose and values; with people, with personality, with emotion and with story.
Hurman's report also offers a fascinating framework, called the Creative Effectiveness Ladder (left), for gauging the impact of creative marketing, from least to most commercially effective—along with this Creative Commitment Graph (right)— based on thousands of marketing case studies and interviews.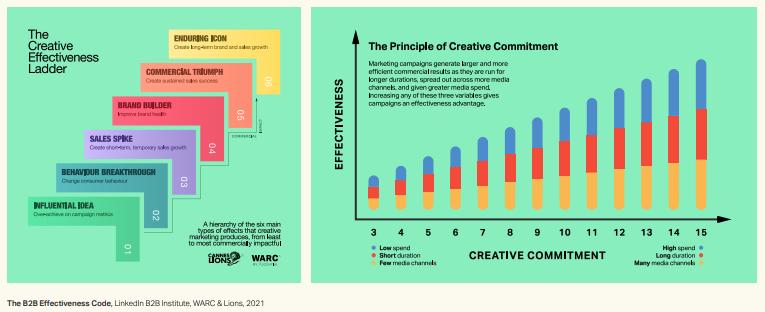 What this shows, in a nutshell, is: the bigger the creative swing—and the stronger the commitment to see it through, in terms of spend, duration, and spread—the better the results.
Even more interesting, however, is the gap Hurman sees between most of today's B2B marketing, which is "predominantly small, short-term, rational and tightly targeted"—a.k.a. ineffective—compared to "bigger, longer-term, emotional and broad-reach campaigning" which pays off in long-term growth.
The report therefore suggests an 'effectiveness ladder' for B2B marketing that's very similar (though tailored more to B2B marketing) to the Creative Effectiveness Ladder (see below).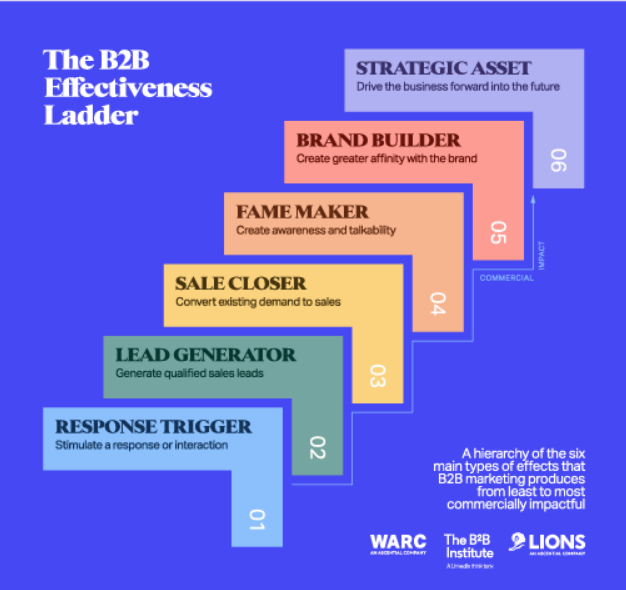 Put differently? Boring B2B marketing doesn't work well.
So What is Good B2B Content, Then? Our Own (Informal) B2B Audit Findings
If B2B marketing is changing, you may want to ask yourself: is your content changing, too? Think about your brand's web copy, for instance. Consider your landing pages. Your newsletters. Your blogs. Your social content.
Also take a moment to consider your experience with other brands' B2B content. What springs to mind? For me, it's things like templated landing pages. Bland call-to action buttons. The same old stock photos used again and again. Copywriting that sounds robotic.
This is coming up for me because I've just been neck-deep in B2B content. As part of our discovery work with a client this month, we've been conducting what we call a "worthy rivals audit" to gain clarity on this client's competitive space: who they're up against, and what kind of brand-content rival brands are producing.
It's an enlightening and valuable experience, to take the time and look at all the content out there—then to think about how we can do it better.
Specifically, we'll be producing a small batch of story packages for our client. These packages consist of visually rich, highly targeted blog posts or articles that are search-optimized and on brand—in the sense of expressing who the brand really is, and how it should really be seen.
After capturing the essence of what the brand is all about, we pair blog content with a collection of highly targeted social media posts intended to amplify it, for channels such as LinkedIn, Instagram, and, in some cases, Twitter and Facebook and more rare cases.
What Matters Most in B2B Brand Storytelling
After going through this process with so many B2B clients, we've noticed some key success factors:
Top-notch, quality writing really matters, especially if you're seeking to differentiate yourself from your competitors and build trust with your audience. This means: original thought, meticulous research and a conversational, genuinely human voice. And for gosh sakes, no AI or templated feel.
Visual Design—your brand look and feel across channels—really matters. Visual branding and multimedia content need to be premium, thoughtful, and communicative in a way words can't always be.
A recognizable brand presence matters. This means your content looks and feels like your brand, and no one else; it expresses the brand's personality and values in the writing and visual design. You should get a sense that nobody else could have produced this piece of content.
Creative, original thought really matters. This means your content is fresh; maybe even funny or quirky when it needs to be.
Being grounded in your purpose and values really, really matters. To all of us at Forge and Spark, top-quality B2B content says something about who you are, and who your people are. What they do. What they believe. How they help. What they care about. And yes, who they are as humans, too.
The key reminder for B2B content marketing—like any marketing—is that you're talking to humans with complex lives and needs. Rather than relying on the templates and tried-and-trues, take a breath, imagine your reader, and speak from the heart—your brand's, as well as your own.
Interested in improving your own B2B marketing with a suite of highly targeted, highly creative, purpose-rich story packages, please get in touch. We'd be happy to chat.