"You can't trust a Dirty Dirty Clean, they're a wolf in sheep's clothing." —Hospital Show
You probably come across several GIFs in a day. Maybe you send them to coworkers for a laugh, attach them to a tweet, and see them in responses on Reddit or animated on Instagram Stories.
GIFs are there to add colour and context to your reactions, and provoke a smile or two out of the intended audience. With that kind of objective, it's no surprise that GIFs can also be a powerful content marketing tool for your business using Giphy.
The kind of powerful that reaches one million views, fast. (And has surpassed four million in the meantime!)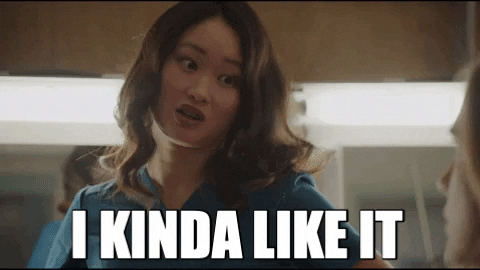 Yes, one million views in just six weeks (not that we're bragging).
So, what is Giphy? And how can you optimize and leverage GIFs for your content strategy? We've done the work to create the ultimate guide and take you inside the world of GIFs.
Step 1: Find out if your business will benefit from Giphy
Giphy is an online database and search engine for GIFs. It's one of the most popular libraries with over 300 million daily active users.
The Forge & Spark team has been working diligently on a content marketing campaign for the upcoming web series, Hospital Show. It's a truly hilarious concept that follows actors playing TV's most respected doctors. The show premieres on YouTube on October 10, 2019, and if you watch… you'll understand The Theory of Dirty and Clean.
We launched a Giphy channel for Hospital Show for three key reasons:
Hospital Show already has the most important asset for Giphy: beautiful video footage. Making GIFs just makes sense—it's a high-quality, comedic product that can be cropped into beautiful, bite-sized visuals that apply beyond the context of the show. 
Publishing these clips on Giphy provides another channel for discoverability. We're fortunate to have an incredible cast on Hospital Show, and tagging GIFs with their names and previous character names has proven to be an effective way for their fans to find the web series.
Giphy provides content that lives beyond the web series. Viewers can engage with the show through the GIFs and stickers long after they watch the show. We can't wait to see how viewers use the GIFs once the show airs, as they start to identify with the characters and the script.
Step 2: Optimize your Giphy channel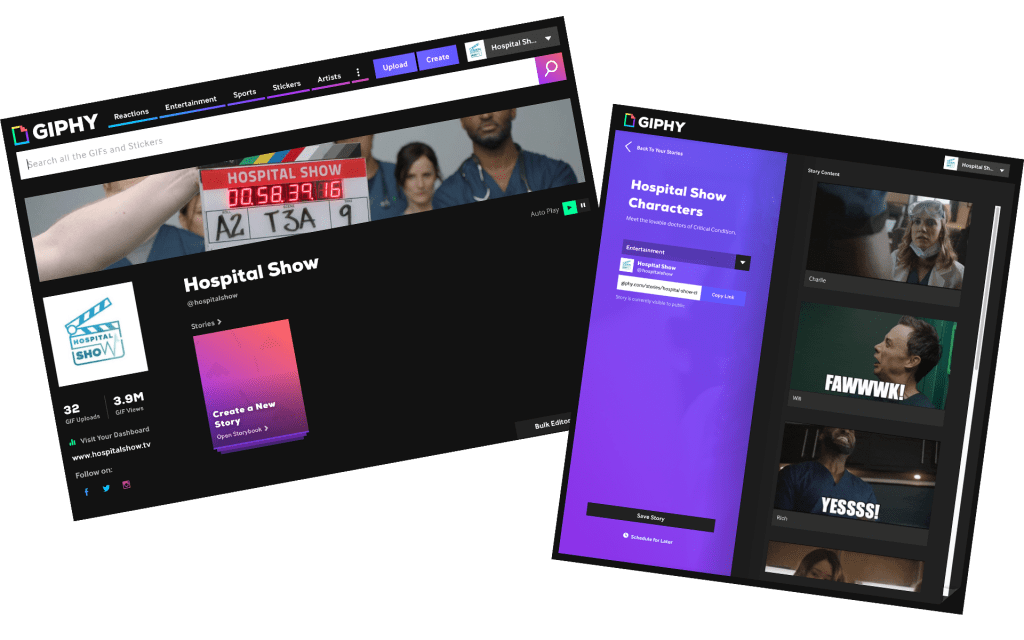 If you decide to pursue a Giphy channel, it's important to keep optimization in mind. When using Giphy as a content marketing tool, make sure all the appropriate links are in the right places.
Claim the ideal username and URL—for Hospital Show, it is giphy.com/hospitalshow—and include all the important links to the website, Facebook, Instagram, Twitter, and YouTube. You can also add a link to your Giphy channel on your own website.
Add an avatar, similar to a profile photo, that matches all your other social profiles. While it's true that users are more likely to see your GIFs out on the internet than they are to show up on your Giphy channel page, it's the smartest content strategy to be prepared, professional, and ensure the channel aligns with all your other online profiles.
Step 3: Create shareable GIFs
Once your Giphy channel is set up and optimized, it's time to get creating and make your GIFs a reality. Actually, it's not just GIFs that you can create, host, and distribute on Giphy.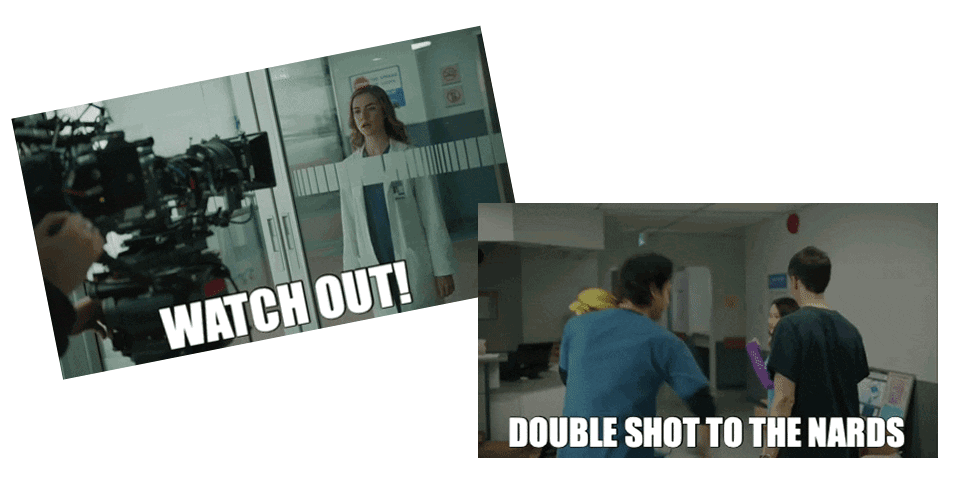 There are three types of Giphy content:
The GIF: A GIF is the one you're thinking of: quick, animated images that you see all over social media.
The sticker: The one you use on Instagram: a sticker is a GIF with at least 20% of the pixels being transparent. These are the GIFs you can add to your Instagram Stories (as well as use them in a ton of other apps). These have to be approved by giphy.
The text: This is the one you might not think of: it's like a sticker, but just text. Make sure the text is animated, cut out, and able to stand on its own without context. These have to be approved by giphy.
When you're crafting your GIFs, stickers, and text, you want your GIFs to provide value on two levels: first, as a lead into the show or brand you're promoting. Second, as a usable reaction in a variety of circumstances.
Also consider how quickly the animation repeats—too quick, and it'll give people a headache… too slow, and people will get bored.
Step 4: Become discoverable on Giphy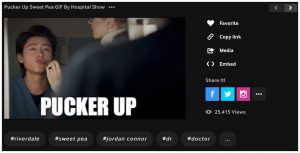 Now that you've created your GIFs, your audience needs to discover them. On your Giphy channel, you can optimize the metadata of your GIFs.
Tagging your GIFs is essential for discovery, but you need to be accurate and specific about what you tag. Giphy recommends 10 tags per GIF, and if you try to post more than 20, you'll get an error.
Giphy has a handy bulk editor for tags. Add certain tags to every GIF, like "hospital show," "hospitalshow," "hospital," "doctors," and "dr." From there, specify tags for each individual GIF, like the actor's name, the character's name, the emotions that are represented in the gif, and the words used in the caption (if any).
Remember to include the source link and the content URL. We use the Hospital Show YouTube channel for both—we want people to be able to view the channel and subscribe.
Step 5: Add your GIFs onto Instagram Stories
Hospital Show's biggest and most essential promotional channel is Instagram—the audience grows consistently by 10 percent each month, and the audience leans towards Gen Z, the first generation that doesn't remember a world without the internet. So, yeah, we need our stickers to be available to users on Instagram.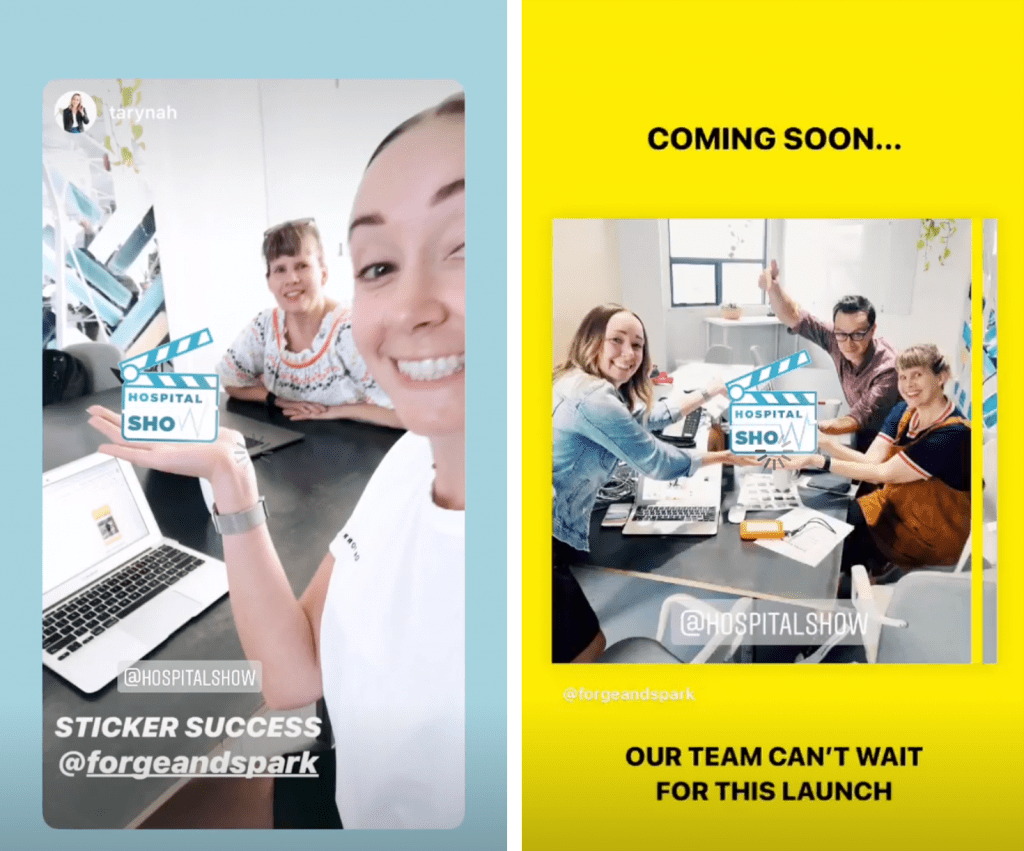 With credit to Giphy, they have a very clear support page where you can learn how to Giphy, professionally. Any company or public figure can apply to be approved for a brand or artist channel. It's important to brand the channel for your business, just like you would with social media.
Note for agencies: don't create an agency channel thinking you can use it for all your clients, as it needs to be customized for the client in order to be approved.
Create your business account and apply with that. If you or your client already has an existing account, that works too. Include as much validating information as possible to increase your chances of approval. Use an email address that is associated with your website, and we also indicated @hospitalshow's Instagram account when applying. If you're verified on a social channel, make sure to include that channel as your social profile in the application. 
Then, you wait!
We received approval within two weeks of applying, and our stickers showed up on Instagram Stories a day later. Our client is already getting a ton of use out of the Giphy content, and we have a bunch of ideas for how to expand the channel going forward.
Why a GIF Strategy Worked for Hospital Show
Comedy, beautiful people, over-the-top expressions, witty catch phrases: Hospital Show has it all. GIFs serve as a genuinely funny and attention-grabbing content punch, leading the viewer to explore the show. GIFs here served as secondary content to entice viewers to consume the real content: the show.
How It Can Work For You
A Giphy channel can help you and your business power up your content marketing strategy. Consider first how people use GIFs: to share emotions or very human responses, like celebration, surprise, or outrage. If your GIF content captures these emotions, you've got a starting point.
We'll share more about how to use Giphy in your content marketing strategy in The Ultimate Guide to Giphy: Part 2, coming soon.
Questions about telling your story? We're happy to support on all things content marketing. Book a time with us that works for you.
At Forge & Spark Media, we aim to bring good people together for good reasons. We work with purpose-driven brands to create and deliver premium, story-driven content marketing that gets results. We also believe in giving back: as part of the Pledge 1% movement, we donate time and talent to helping women and kids in need in our community.