Are you a planner or a pants-er? Do you love it when a social media plan comes together or do you prefer a bit of chaos in your life?
Actually, never mind.
When it comes to effective social media marketing—consistent storytelling that expresses your most important brand stories and values in a way that attracts audiences, engages them, and drives customer action—I'm afraid to tell you that your answer doesn't matter a whit. 
Because of course life happens. COVID happens. The best laid plans of mice and men and women go completely out the window. 
The bottom line is that to ensure you're communicating effectively and optimizing your (and your team's) time, you really do need a social media plan. AND there's really no way around having to adapt when things don't go quite your way.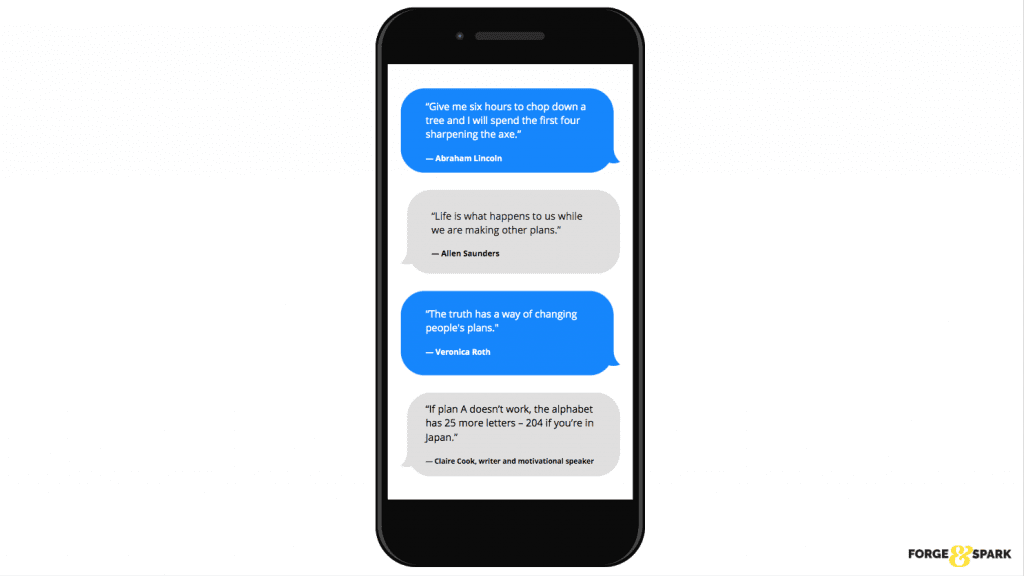 So buckle up, and join us on a journey toward crafting a killer social media plan (as a part of your documented content marketing strategy) that won't kill you (or your lovely team). Even in these times.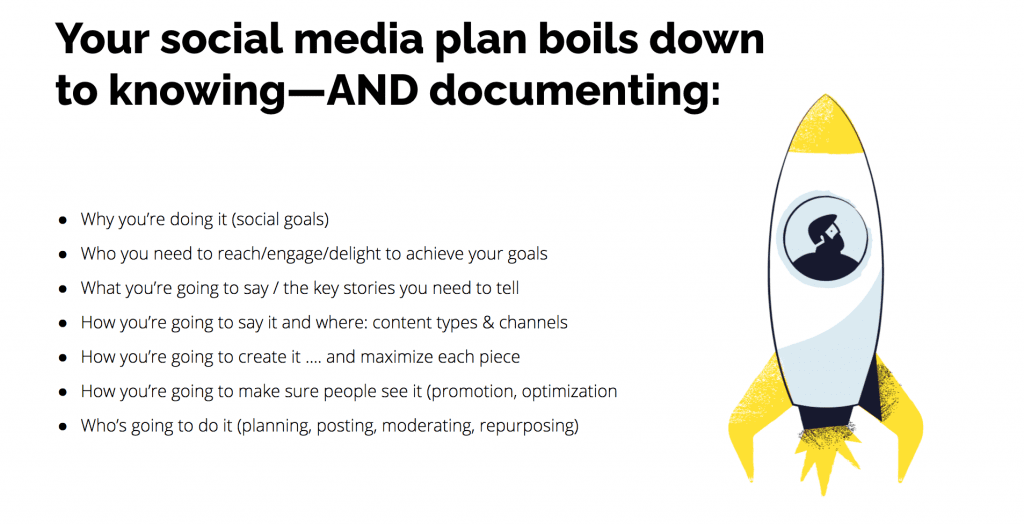 The Why, the Who, the What, and the Rest of It

Your social media plan boils down to having an answer to the following questions: 
Why exactly are you using social media for your business? (Goals)
Who are you most trying to reach and engage? (Personas) 
What are the most important stories you have to tell? (Story and Messaging) 
Where are you going to meet and engage with your audience? (Channels) 
When / how often are you going to post and promote and how are you going to create and make the most of each content item?
Easy, right? 
Sigh, we know. Here's what we've learned (and are still learning) to steer you in the right direction. 
The Key Elements of a Killer Content Plan that Won't Kill You
1. The Why: Set goals and objectives
Setting goals. What could be more simple, right? And setting them without overwhelming oneself? That's why so often this first step in planning is such a doozy. 
Start by looking at others' most common social media goals. 
According to the Sprout Social Index: Empower and Elevate, nearly half of marketers note that aligning their social media campaigns with company goals is their top struggle. 
There, see? You're not alone. 
And we can tell you that it's worth the effort — knowing why you're spending time on social and exactly what you need to get out of it is the best possible time you can invest in your strategy. 
If you're just getting started, our advice is to choose one goal and double down on hitting it. Tackling multiple goals confuses your audience, and disperses your efforts. 
Top business goals include creating brand awareness, generating sales and/or leads, growing website traffic, boosting community engagement (doing so helps make your content reach even wider audiences, maximizing content ROI as well as growing awareness) and growing overall brand audience and followers. 
Once you've established the main goal, use the SMART approach to set Specific, Measurable, Achievable, Realistic, and Time-bound objectives. Of course. 
Here's a super simple way to express a typical goal of growing brand awareness among a targeted audience group — beginning to also lay out the ways you'll meet the goal, and the ways you'll measure your progress and ultimate success, ta-da. 
2. The Who: Create audience personas
Once you're clear on what you want to accomplish, you'll need to identify who you need to reach, engage and delight in your social media plan in order to make those things happen. 
We usually develop three to five personas for a brand strategy, but as a starting point, I'd advise creating just one: your ideal customer. This should be the person you most need to reach and/or engage with in order to accomplish that goal you just worked so hard to set, and clarify. 
A persona is an avatar for someone you want to talk to. Audience personas are fictional profiles that represent groups of similar people in a target audience. With a deep research of their demographics, age, pain points, interests, fears and behaviours, you are able to get a gist of what your audience is looking for and base your content on this.
"A marketing persona is a composite sketch of a key segment of your audience. For content marketing purposes, you need personas to help you deliver content that will be most relevant and useful to your audience." —Ardath Albee
And if you're us, you'll then start talking about your personas like you just had lunch with them, like Nah, Kourtnee wouldn't ever click on an inspirational quote — she's way too cynical! — but she'd be all over goofy GIFs she could send to friends. 
In essence, a good persona helps you put a face and a name to an idea of an audience group. It gives you a real-human understanding of your most important audiences so that you'll know how to speak to them in a natural way, meeting their needs, relieving their pain points, and delighting them with all that your brand has to offer. 
3. The What: Figure out what the heck to say
Next of course, comes figuring out what to say. And here is precisely where your brand stories, and topical stories, fit in. 
Consider the times. And your audience's core needs: Identity, Social Connection, Self-Care. How can your messaging help meet those needs?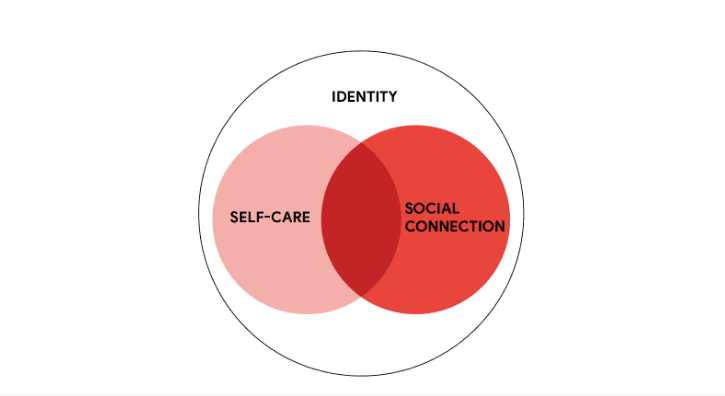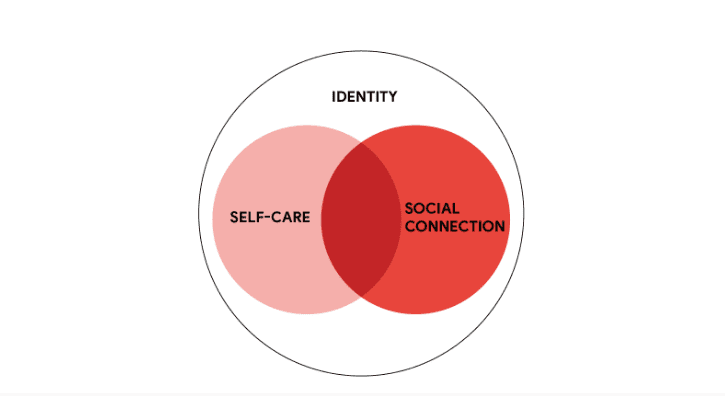 And then, of course, there are a range of stories brands tell — from how you came to be, to stories about your audience and their experiences with your products, to positioning stories: we're the new guy in the market, or we're the reigning champ. 
Other story starters: 
Founding/grounding stories
Stories that express or highlight your brand values 
Employee/Team stories
Audience stories 
Success stories: problem to ease/benefit 
Product/Service illustrations
Vision/Mission stories: why we take ours seriously
We're the underdog/We're the champion
We like to divide brand stories, as well, into three main categories, ensuring that you as a brand are clear of which stories you're telling early in the customer journey; further along as a persona begins to consider your offerings; and finally as they decide whether to buy from you, work with you, and/or advocate for your brand.
Depending on what your goals are, your brand will inevitably find itself expressing one or two stories more often than others. Choose your priorities carefully, and ensure that you're using a good content calendar to book the telling of those stories into your calendar as your 'rocks'. The rest—seasonal promotions, events, interaction with your community—will come inevitably, but you must be sure that your core stories come first. 
4. The Rest of It: Choosing your channels, creating the right content, setting up operations
Almost always, when we start out working with a client to develop a plan, we'll move in early stages to reviewing and analyzing their own website and social content, as well as that of their key competitors, to consider what's working, and where gaps and opportunities may exist. 
It's genuinely fun and decidedly enlightening! You can do the same right now. 
Even with a quick 'audit' like this, you'll quickly get a sense of which social platforms are lively and active, which ones are not, which ones are helping you make progress toward your goals, and which are sucking your time with little payoff. This is good. 
So get nosy–about your own stuff, as well as about your competitors. Research their platforms, their following, frequency of posting and even the time of day of posting. Also pay attention to the type of content (funny, formal, etc.) and their feedback to their followers (use of emojis, GIFs, etc.)
And when you go to choose channels for your own brand, keep this in mind: an average social media user uses at least three social media channels daily. But if you're just you, running your own social media operations, you will feel like dying if you try to run a business and deliver killer content on three or more channels. 
We're just sayin'. Balance your ambition with your resources. You don't have to be everywhere. You can start by choosing one thing and doing it well. 
And when it comes to making content, remember to blend. 
Content Types
Visual content ranks high today as audiences are most likely to view it, engage with it, and are twice as likely to share it with friends. But visual or not, your content must above all be relevant to your fans and social media channels.
Take care, knowing your audience and what you're hoping to accomplish, to choose the types of content most suitable for your endeavours, whether fun, educational, formal, or other.
Posting Times and Frequency
Finally, determine the best times to post your content on different platforms. Different studies show the specific times to post on social media but it's best to try and figure out by yourself.
Also, remember to integrate your content with the rest of your digital marketing strategy for best results. In order to move your leads down the sales funnel, you need content nurturing. You can combine email marketing with pay-per-click campaigns, as well as search engine optimization for excellent outcomes.
Phewf! There you have it: a place to start. The rest is yours. 
Tips for your journey: Start here and lay down the groundwork. Try. Nod and breathe deeply when things go awry, then try something different. Or go for a long walk. And no matter what happens, listen. Play. Get ready to make a few mistakes. Tell these things to others and invite them to tell you things. Pivot. Adjust. Find new letters. And maybe whole new alphabets. 
At Forge & Spark, we create plans for purpose-driven clients, and we help to put them into action—and to adjust when things go slightly sideways, as they do, so that they can meet and exceed their goals. If we can help you in any way, please reach out. We love working with good people doing good things in the world.