I'm sorry, someone had to say it: you cannot grow on Instagram in 2022 without implementing Reels as part of your content strategy.
If you want to grow your audience on Instagram—Reels are an essential piece of the puzzle. And unless you're a full-time influencer, you don't have time to create new videos every day. So you want to make sure the videos you do create are attention-grabbing, useful, and demonstrate your expertise.
And if you're a business owner or a marketing professional who just doesn't know how to make Reels work for your brand—you're in the right place.
I'll be taking you through Reels 101—helping you understand structure, types, and how they can work for your brand. Plus, a few examples of Reels from our own clients that might inspire you to create your own!
My Reels Experience
Since Reels launched in 2019, I've gone through my own phases with them, too!
At first, I felt the imposter syndrome—I'm not a film director, I'm not a screenwriter, and I definitely am not an actor.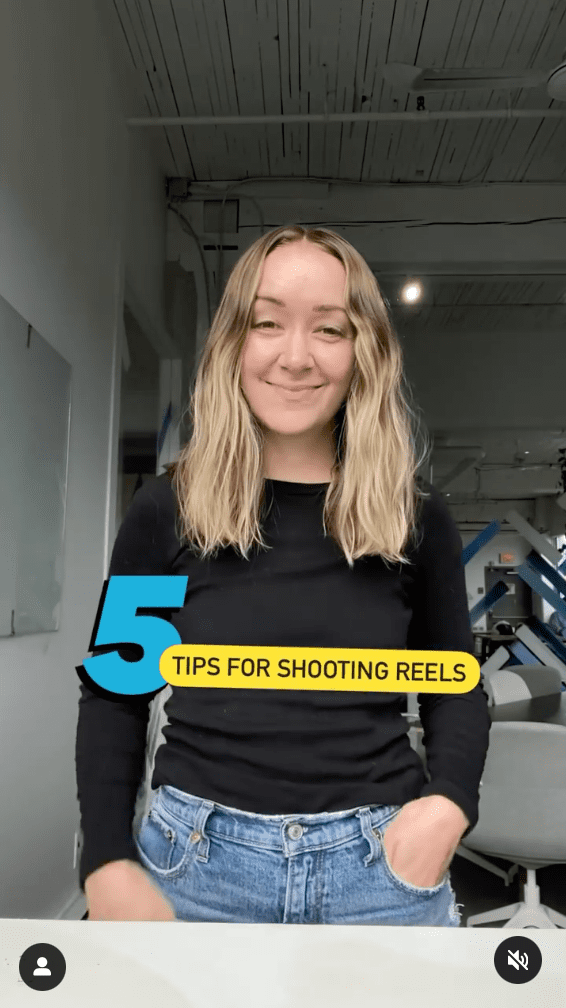 Fast forward to 2021—and here I am.
Director, writer, performer, video editor, sound editor, graphic designer, and promoter of this 30-second clip. And hey! It received nearly 5000 views, 100 likes, and a whopping 25 comments for our 400-follower account. Plus, it serves as a resource for our clients (and now you!) to learn some basic best practices for shooting video.
Meanwhile, I've created Reels that have been viewed over 175 thousand times! I've learned a lot along the way—and I'm here to share.
3 Benefits of Reels for Businesses
Reels are Instagram's answer to TikTok—short, full-screen videos that play to trending topics, education, and depend on quick edits and closed captions to keep viewers engaged.
As a brand, you need to compete with content creators and aggregators—and using quick, fun videos is a great tactic.
REELS ARE PRIORITIZED IN THE APP
Instagram is prioritizing Reels throughout the app (its own newsfeed, in the Explore tab, and on the main feed in multiple placements!Plus, paid options are still limited. Ads are enabled in Meta Ad Manager but no boosts are currently allowed in Canada—check your local rules for more information.
REELS HAVE BETTER REACH—AND REACH NEW POTENTIAL FOLLOWERS
Instagram is also delivering stronger organic reach with Reels, to compete with TikTok's ability to surface viral content.
REELS APPEASE THE ALGORITHM
Reels are a key algorithm indicator for high-quality accounts and offer long-tail discovery for your profile! While a static post may only receive impressions for a few days, and Stories are only live for 24 hours, Reels continue distribution for weeks after posting, which can help them pick up engagement over time.
4 Key Types of Reels
1. Talking Head
The most classic style, where a person gives information verbally with the help of captions.
"Hi, I'm [name], and here's [HOOK]!" Always lead with the HOOK written on the screen, phrased in a way that will appeal to the target audience:
"Can't [outcome]? Here's how."
"Stop [action], try this instead!"
"The best way to [action]!"
Instead of "Three Ways We Solve [problem]", try "Three Easy Ways to Overcome [problem]" and offer helpful at-home solutions.
For Your Business: Always consider these educational Reels from your customers' point of view—what would help them, not what you want to brag about.
2. Demonstration
With Demonstration reels, use a HOOK across the screen, and get straight into a tutorial or how-to. Add closed captioning if there's verbal cues, and add key takeaways across the screen throughout.
"How to [action] from a [job title]."
"Three ways to [action]—in 15 minutes or less!"
For Your Business: Think about the most common struggles your customers face, and figure out how you can help them overcome them with a demonstration or strategy.
3. MEME
To "meme" your Reels, use a trend (usually audio, a transition, or a challenge) and apply it to your own business's context.
Here, the trend acts as the hook, but you still want to make sure to give people a reason to keep watching. Try to jump on trends when they're on the rise or for a few weeks afterwards. From there, you'll need to move on to a new style to appear current!
For Your Business: Consider if there's a certain team or department at your company that is most relevant to the trend, and ask if they'd like to participate. Always tie the trend back to your business goals—otherwise, it's not a good fit for you!
4. Accompanying
This type is where the video acts in place of typical content, like a graphic, photo, or quick-cut video clips, but the focus is on the caption. The video grabs the attention, and the first line of the caption draws them in.
For Your Business: The kids these days call it "aesthetic"—but we like to think of these as low-lift, high reward content items. Think of what visuals you have that are eye-catching and represent the work you do—then work them into a visually-appealing loop that will draw people in.
The Best Structure for Creating Strong Reels
Hook
People are scrolling and they are scrolling fast! Start with something eye-catching right now—a strong caption, an eye-catching visual, or a trending audio that will entice them to stay to see a reveal.  A good Hook tells users why they should keep watching and teases what they will learn or experience.
Core
The Core of the video is the content or message itself—it should be Fun, Educational, Funny, or Interesting—and should tie to your business objectives, values, or offerings.
When in doubt, less is more! Tease the value and lead them to the caption or your profile for more information. The core can just be copy on a short video, or it can be a more elaborate video.
Call-To-Action
Always end with a strong call-to-action. Usually, this is added across the screen, telling viewers why they should follow and what they should do next. They might lead to the caption or link in the bio.
Other Tips for Strong Reels
Good visuals—Nice lighting, smiling faces, movement, transitions, bright colours.
Good audio—Trending sounds, appealing music, clean audio. Try using a trending song softly in the background of a Talking Head video!
Quick start—Use a clear intro, strong hook.
Gets right to the point—Start strong and use quick clips and cuts to keep the viewer engaged.
Action focused—Tells you what to do or how to learn more.
Easy to watch—Include closed captioning in case people don't have headphones!
3 Reels Examples to Save!
CLIENT: Omorfia Medical Clinic
HOOK: Age-appropriate, natural results (a core value for Omorfia)
TYPE: Talking head
CLIENT: fit52
HOOK: 15-minute leg workout, free
TYPE: Demonstration
CLIENT: Ourselves
HOOK: Trending audio/challenge
TYPE: Meme
Ready to Grow your Account?
So that's it! You've got the basics, now you just need to get shooting. Intimidated? Don't be! Start with a fun, behind-the-scenes Reel that demonstrates your company culture and breaks the fourth wall—and you'll be shooting Talking Head videos in no time.
Need help with Reels? We can support. We provide pre-production and post-production assistance to our clients and can do the same for you. Get in touch for a content strategy that can put Reels to work for your business.