When a coffee brand you've known and sipped for decades asks for help with getting a fresh content strategy off the ground—well, you get brewing.
Canterbury Coffee approached us to provide content and social media strategy to complement a full brand refresh they completed in 2022. They were looking for two things.
First, they needed a fresh approach and clear strategy for generating big leads and greater brand awareness for their pillar brand, Canterbury Coffee—established 1981 and now a prominent B2B supplier with major partnerships across North America. And second, they wanted to introduce a clear strategy for creating and publishing just the right blend of social media content for one of their B2C coffee brands, OneCoffee: a sustainability-geared B2C coffee-pod brand stocked by Amazon, London Drugs, and others.
Like so many of us, Canterbury told us that their content and social media marketing was a challenge for them on a number of fronts—including having multiple brands to market, multiple audiences to speak to, being unclear on just what the right channels and content formats were for them, and not having the right team in place. The situation had expressed itself, as it often does, in inconsistent content on blogs and social channels, a lack of clarity around exactly what they most needed to accomplish with their content, and which content to focus on. Plus, a feeling within the company that their incredible stories simply weren't being told on Canterbury Coffee's channels, which included LinkedIn, the company's blog, and Facebook.
On these (and perhaps other) channels, they very much wanted to better connect with other coffee pros and potential buyers, to position the brand as an industry leader, and to present Canterbury as the incredible workplace it is, to potential employees. And on the B2C side, OneCoffee's Instagram needed a facelift to highlight the brand's sustainability, ease and quality—and to prompt conversion.
The Work
An initial content and competitive audit—along with strategic discovery workshops—yielded targeted Content Marketing Roadmaps for Canterbury Coffee and for OneCoffee, including the development of unique customer personas for each brand, and customer messaging maps that outlined the kinds of stories, messaging, and content that their audience most wanted and needed at each stage of their customer journey. We translated these findings into Story Pillars, a Channel Plan, and a Visual Design system that showed the client what kinds of content to zero in on, and exactly what it should look and feel like.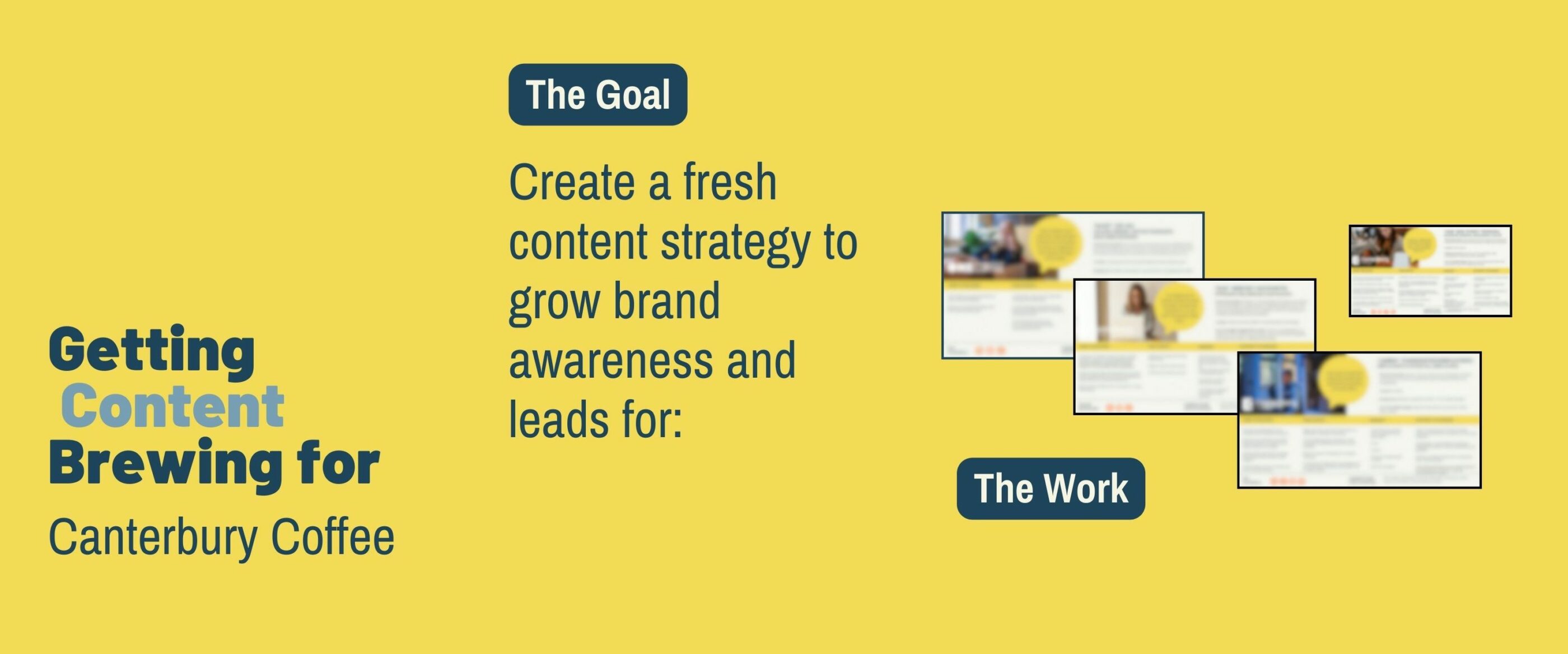 From there, we launched into collaborative monthly content planning, production and reporting, culminating in month-to-month creation of content batches for both brands.
For Canterbury Coffee, this included social content—laying the groundwork for an engaging and knowledgeable online presence, including a mix of custom visuals and premium templates for recurring series such as coffee-geek knowledge, product spotlights and "giving back" stories.
Plus: story packages—anchored by brand voice- and SEO-optimized blogs:
For OneCoffee, we developed a lifestyle-focused and conversion-geared social presence, telling the brand's key stories about sustainability, ease, and quality.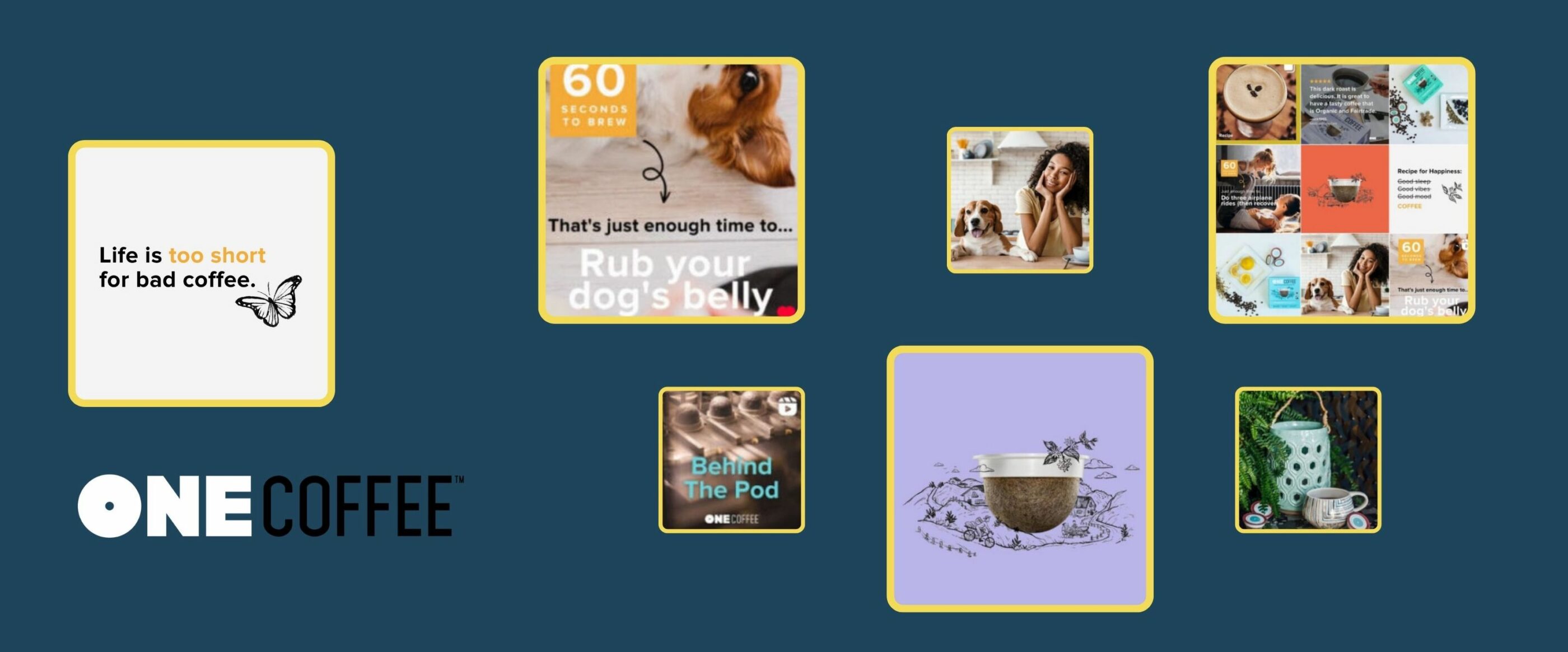 Mini-campaigns such as "60 Seconds to Brew," flavour notes, and Monday coffee humour, brought a healthy dose of lifestyle, fun, and play into the mix, as well: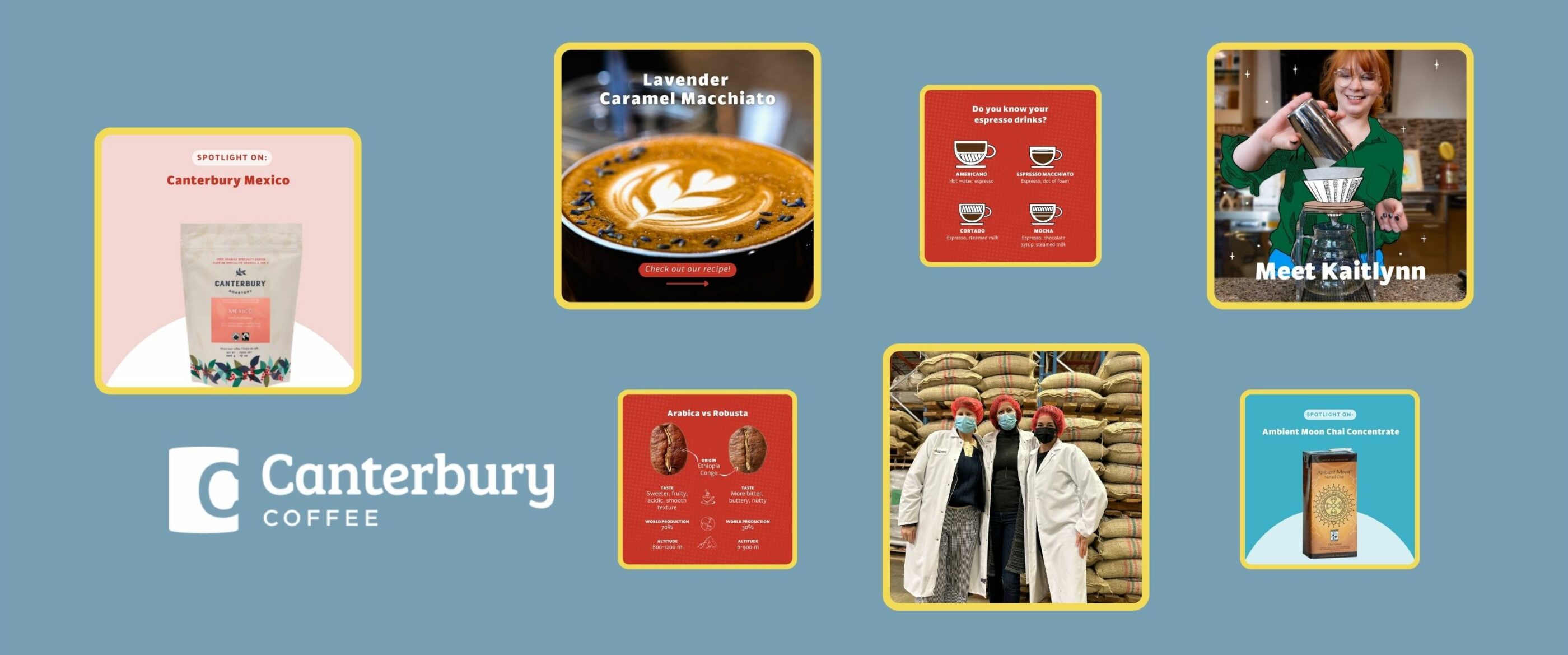 Along the way, we collaborated closely with Canterbury's in-house marketing team and SMEs to tune the voice, tone, and content mix, as we refined our own systems for planning, developing, and scheduling content.
The Results
Beginning from our carefully crafted strategy, we built a conversion-geared social presence and long-form content for this "routinely exceptional" coffee producer (that's their slogan, and a key goal we embraced as our own).
After an engagement of roughly six months, which had us fine-tuning strategy, setting up systems, producing content, to then analyze and tweak it according to performance, we then assisted the Canterbury team in building and shaping their internal team to take over. We trained the team, provided full documentation of our processes and templates for the content we'd developed together, and ultimately handed over a polished and turnkey content system, which they are successfully using today.
Over the course of our work together, we not only established an efficient and effective content operation that saw Canterbury and OneCoffee publishing high-quality content—but our work resulted in a steady growth in followers, too. For instance:
An increase of 350 LinkedIn followers for Canterbury (now sitting at more than 1,870)
An increase of 244 Instagram followers for OneCoffee now totalling 2,650-plus).
Posting increased in frequency for both brands, as well, going from a few sporadic posts each month to 3–5 weekly.
Why We Love Them
Caring coffee geeks who live to perfect—and generously share—their oh-so-tasty passion? They made it easy. Not only did we have the pleasure of working with some incredible folks, but we got to go behind the scenes at Canterbury's roastery and warehouses, to see firsthand how much love, talent, and artistry goes into every bag of Canterbury Coffee beans. And then on into every beautifully brewed cup of the good stuff.
Check out more of our work by following the arrows below. And feel free to reach out to discuss ways we might support you and your team with the right targeted campaign and/or content.