Way back in 2005 I attended an E3 conference on behalf of Electronic Arts, my employer at the time. There weren't many women in the industry then (I remember one noon hour at EA looking around the 250 or so people in the lunchroom one day to realize that I was the only woman there) and so those who were there truly mattered. 
We stuck together, particularly at events like E3, where at a typical party, it was us and the "booth babes" hired to make things slightly less awkward for the swarms of men. 
While making our way from a long day on the floor to dinner, one of my female colleagues laughed at something I said, and told me I was a "bright spark." 
This passing comment, probably one she doesn't remember, stuck with me, and touched me—whether because I was anxious for approval, or validation, or just needed a kindness that particular day, I'm not sure. 
I don't think I'm alone in remembering compliments—as well as criticisms—long after they're shared. 
Being willing to share an observation or thought that somehow elevates another person (even for a moment) is so much more vital than we think. I now suspect it's really all about putting one small spark of kindness out there in the world, to perhaps light another.
In that spirit, we at Forge & Spark wanted to share just a few short stories about some of the women we work with who inspire us every day.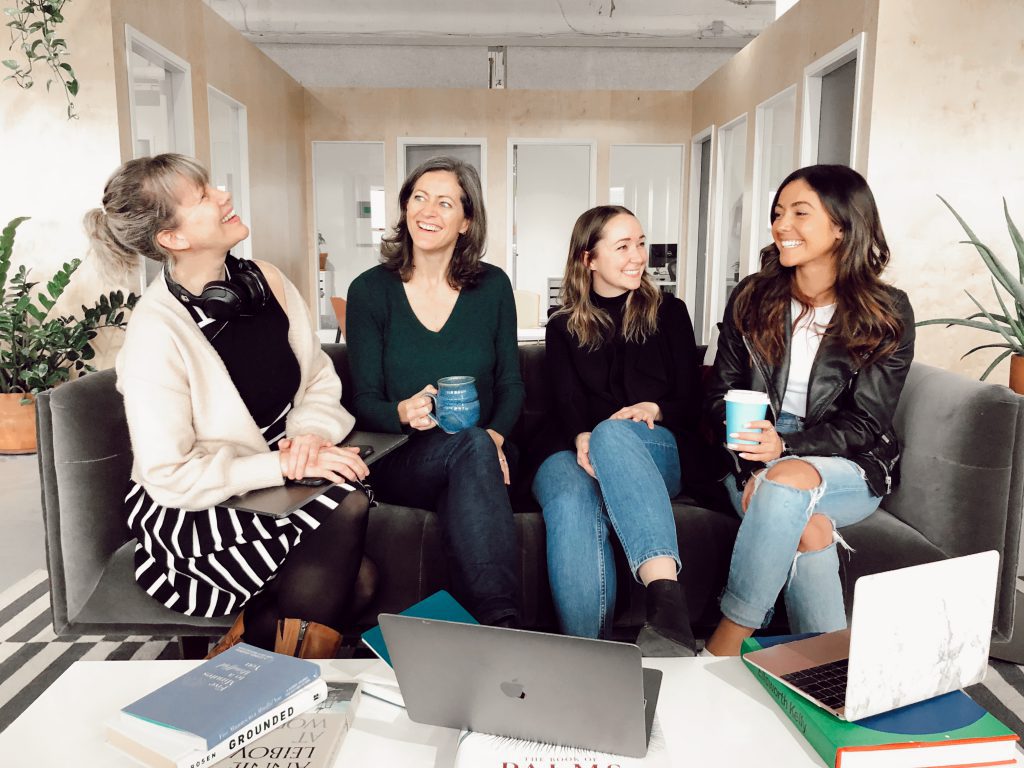 Renée is a distinguished psychologist and thought leader who marries psychological research with sustainability. She just released a TED Talk this past week about ways we can all turn the anxiety we feel about climate change and environmental crises into action. She'll be appearing alongside other inspirational women such as Naomi Klein, Greta Thunberg, and Eileen Fisher at an upcoming Sustainable Brands conference. We're incredibly honoured to be supporting Renée with a story campaign designed to generate awareness around this need for action. 
We consider ourselves blessed, here at Forge & Spark, to come to work everyday (or thereabouts) at Werklab. We have an office within this gorgeous shared workspace dedicated to 'elevating humans' by incorporating elements of spirituality, physical activity, and mindfulness into our everyday. And the women who take care of us—onboarding new team members, caring for plants, setting up yoga, pilates, and meditation classes—are equally gorgeous in every conceivable way: they are helpful, tough, kind, and supportive. Beautiful through and through. We love it here.
OK so we don't personally know or work with Carrie, but we have spent the last several months working on an organic content campaign around the launch of her new fitness app, fit52. We've done the workouts, tested the app, reviewed thousands of photos and video assets, worked with her team, read her new book, and learned everything we could about Carrie—and repeatedly encounter integrity, a dedication to helping and elevating others, and generosity from everyone on her team. Plus the app is FUN. Download it. 🙂 
Innovators, entrepreneurs, and stunning leaders like Mary Venneman, and Shannon Ward
We're currently working with the wonderfully strong and determined Mary Venneman to launch a new brand and website dedicated to helping ease the RFP process; and with the inspirational Shannon Ward to create a campaign around the Follow-Up Club, to support entrepreneurs in creating a 'sacred space' in their week for sales. Shannon has taught me to think differently about our relationship to sales—and, as she says, to know that "sales is love." 
We had the opportunity this past year to conduct a digital and content audit for Alinker, aiming to create a story and content strategy that would support the team in responding to a surge of growing interest—much of it generated by actress Selma Blair, who, after using the Alinker to increase her own mobility and activity, has become a highly influential brand ambassador—and true friend to the brand and team. Getting to know Alinker inventor and founder Barbara (BE) Alink was a delight: she is fierce, strong-minded, and infinitely kind, and taught us much—including the profound lesson, learned together, that the Alinker story can only be told by its members and advocates. 
Samantha Reynolds founded ECHO 20 years ago to help individuals tell their powerful personal stories through memoir. The company has grown into a true storytelling agency, with a deep commitment to helping people—whether individuals, businesses, or brands—to "deepen their relationship with those who matter most." Sam is tough, whipsmart, and kind; she listens and speaks with equal generosity. And within her team are some of the most talented and wonderful women (and men!) I have the pleasure to know. 
---
We send a warm, generous virtual hug to all of the women out there working to make this world a little better—whether individually, through entrepreneurship, kindness to others at work and home, intellectual spirit, and that doggedness that we sometimes need to keep us going. Keep going. And keep that spark alive.