Do you want support in creating your brand voice and style guide? Click here and set up a time to chat with us!
Sometimes, the most compelling storytelling doesn't come from the brand itself. It comes from their passionate community.
Airbnb is a great example of a company using their community to further their brand awareness and revenue.
In 2016, Airbnb launched its program called Experiences – one-of-a-kind activities hosted by locals, globally. The company realized that when people travel, they want to explore authentic local adventures.
Rather than just going to see the usual tourist attractions, why not try bee-keeping on a roof with a bee-keeper in Greece, making traditional clogs in Holland, or enjoy a guided personal meditation session with a Shaman in Indonesia? There are literally hundreds of hosts who are meeting the needs of the market by bringing local flare into travel.
When you look at Airbnb's Instagram, you'll notice that Airbnb Experiences steal the spotlight.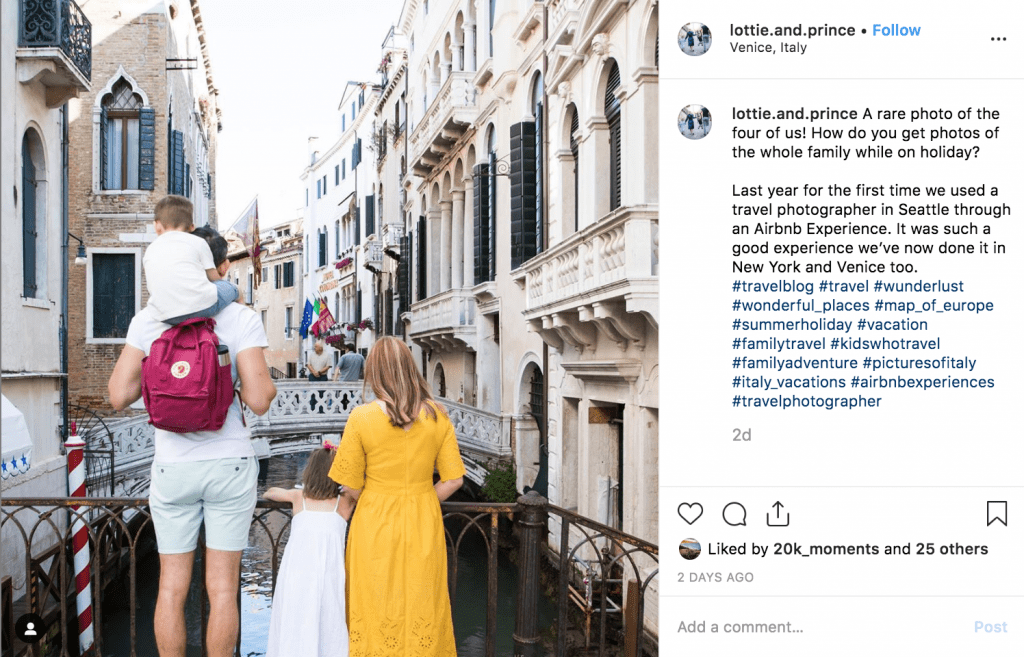 What Makes Airbnb Experiences Feed Exceptional Content
Because the program is returning far higher profit margins than their accommodation opportunities, the company smartly placed Experiences at the center of its Instagram marketing strategy.
What makes this exceptional content — and effective content — is the way Airbnb balances their Instagram storytelling between aspirational experiences and ones that are intended for less adventurous people. This helps establish their brand as an approachable platform that provides something for every taste, while still honing in on their target market.
When scrolling through the feed, you can't help but emotionally connect with the hosts as Airbnb uses not just beautiful imagery, but caption to focus on host passions, personas, and the what and where of the Experiences. Building from the feed, they also use Instagram Stories to further flush out these tales of adventure, connection, and culture, taking followers on mini journeys from the comfort of their own home. People feel pulled to the story and thereby are already immersed in an engaging Experience (pun intended) before they even leave their couch!
Airbnb is a master at inspiring people to daydream about traveling and hopefully turn that daydream into a reality using their platform.
Combined with Instagram's visual appeal, there's no better way to inspire FOMO in would-be travelers worldwide.
Your Takeaway
What Airbnb's exceptional content can teach you is that people are the heart of your company, and keeping them at your core is key.
Learning about — and sharing — their experiences not only teaches you about what your target client wants, but also creates damned good content that helps your business share its own authentic brand story, increases emotional connection, brand visibility, and ultimately, revenue.
At Forge & Spark Media, we aim to bring good people together for good reasons. We work with purpose-driven brands to create and deliver premium, story-driven content marketing that gets results. We also believe in giving back: as part of the Pledge 1% movement, we donate time and talent to helping women and kids in need in our community.