THE CHALLENGE:
The Luppolo Brewing Co. team built their brewery from the ground up—literally. From the bricks and mortar to the marketing plan, their impressive team of four co-owners (two couples) has figured it out on its own.
From us, the team asked only for a little refinement, structure and support when it came to planning and analyzing their social content. Their social accounts were solid, but offered space for a little more cohesion and consistency, as well as design love, to bring them to the next level.
We set out to create a strategic plan that would help them deliver the right written and visual content for social; and that would draw in new clients who truly loved them and felt at home.
THE WORK:
Our projects always begin with our team digging into a brand's 'world,' and as we did, we quickly discovered—to our delight—that Luppolo is unique in the Vancouver craft beer market, offering premium brew along with beautifully Italian bites in a cozy, truly welcoming, family-feel setting.
During the pandemic, the team partnered with Mordimi to begin offering a range of pizzas and Italian food to their impressive menu of beer and wine selections. We encouraged Luppolo to define more clearly their relationship with Mordimi, to lean into their Italian food and drink offerings in their social content, telling those stories, and to follow their own instincts in shouting their inclusive values to the rooftops.
With this in mind, we delivered a strategic content marketing plan, offering key messages, new in-depth audience personas, updated goals and KPIs, and a content and channel plan—all aimed at elevating and clarifying their messaging and driving new audiences through their doors.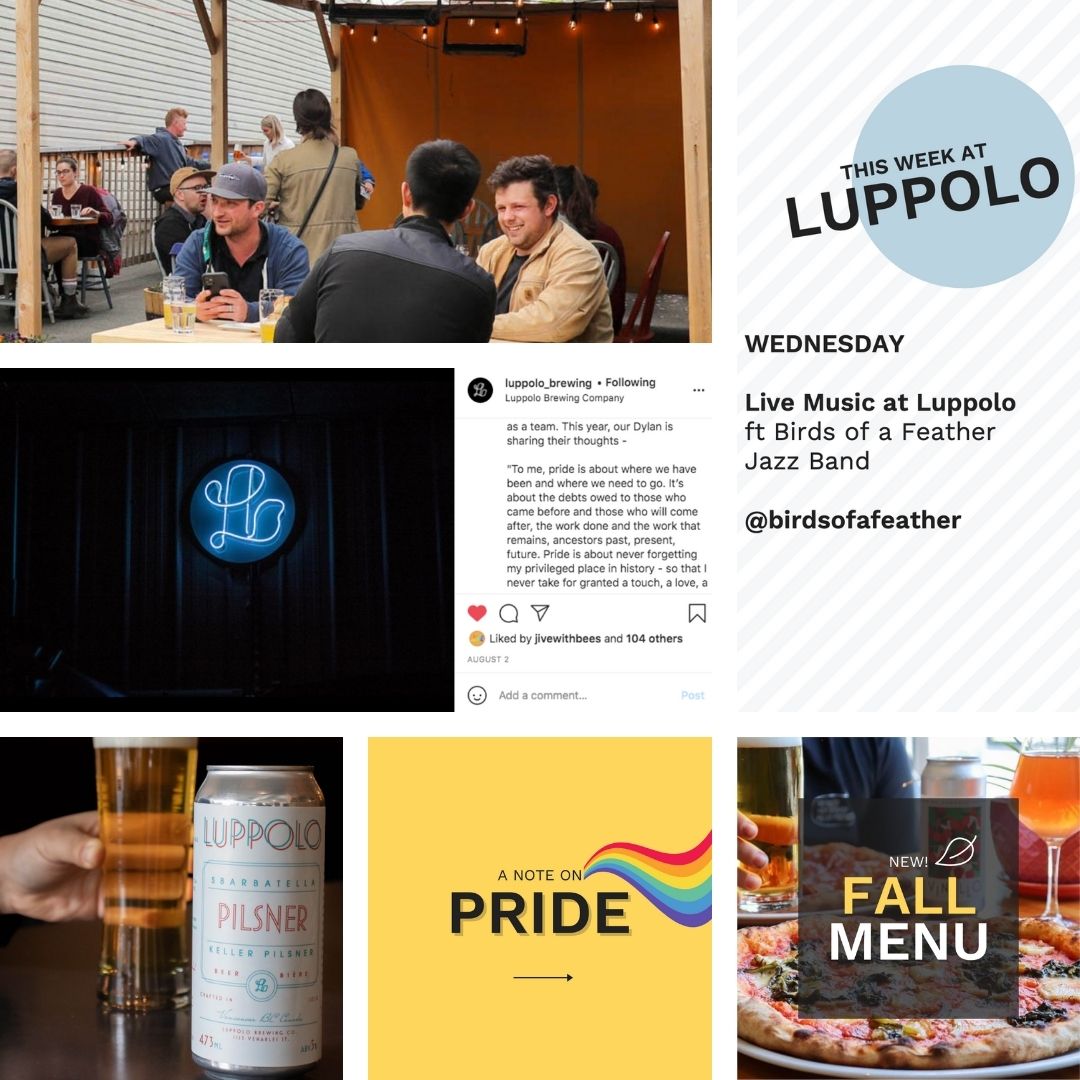 THE OUTCOME:
Following our work with Luppolo, this talented family team has substantially grown their following on all social channels and clarified their brand story. The new social templates we created to enable their team to create unique story-strong content quickly has helped Luppolo to consistently tell stories about family, diversity and quality in a way that's compelling and inviting to social audiences keen to sample their wares.
WHY WE LOVE THEM:
Family- and female-run businesses are worth championing, and Luppolo offered up both. We loved hearing their stories and watching as they translated our encouragement and guidance into confident, playful, compelling content. They're also our go-to brewery in the 'hood. Of course.
Check out more of our work here—and if your team is in the market for a refreshed social strategy, we do invite you to get in touch.