The Challenge
The CSF team approached us seeking structure and support with planning and delivering their social content. Throughout the pandemic, a very much 'live' fitness business had transformed into a largely virtual one—and while they learned a lot in a hurry, they knew they weren't yet using social platforms to their full potential.
Having launched an online membership business to a wide audience, Christie Stoll was looking for professional guidance in how to grow both her wider social media audience, and in how to nudge that audience to become paying subscribers.We found a way in by getting crystal clear on who she most wanted to reach, and why. 
The Work
Our first step in working with the CSF team was undertaking research to get crystal clear on the tangible results desired, and the audience the team most needed to serve to drive those results.
We also wanted to understand the very noisy mid-pandemic world of online fitness—and we're glad we did. We were able to see, together, that while general online fitness was indeed a crowded, noisy space, the competitors within a more niche market—Christie's primary audience of women aged 40+—was largely underserved.
We encouraged the CSF team to be bolder in statements about aging; to talk about issues of concern to that specific audience; and to specifically focus on growing only that audience, to build a community that felt heard and supported (as they very much had felt in Christie's live community). We delivered a comprehensive social media plan, identifying key marketing messages, in-depth audience personas, updated goals and KPIs – all aimed at honing in on this target group and driving sign-ups.
We also contributed brand/visual guidelines and created social media templates in Canva to enable the team to consistently create and publish on-brand content across channels. We then hosted several training and consulting sessions on topics including paid advertising, and creating Instagram Stories, with the team—every one a delight, as this team was not only committed to learning but came back after each session having fully implemented—and outdone—our teachings.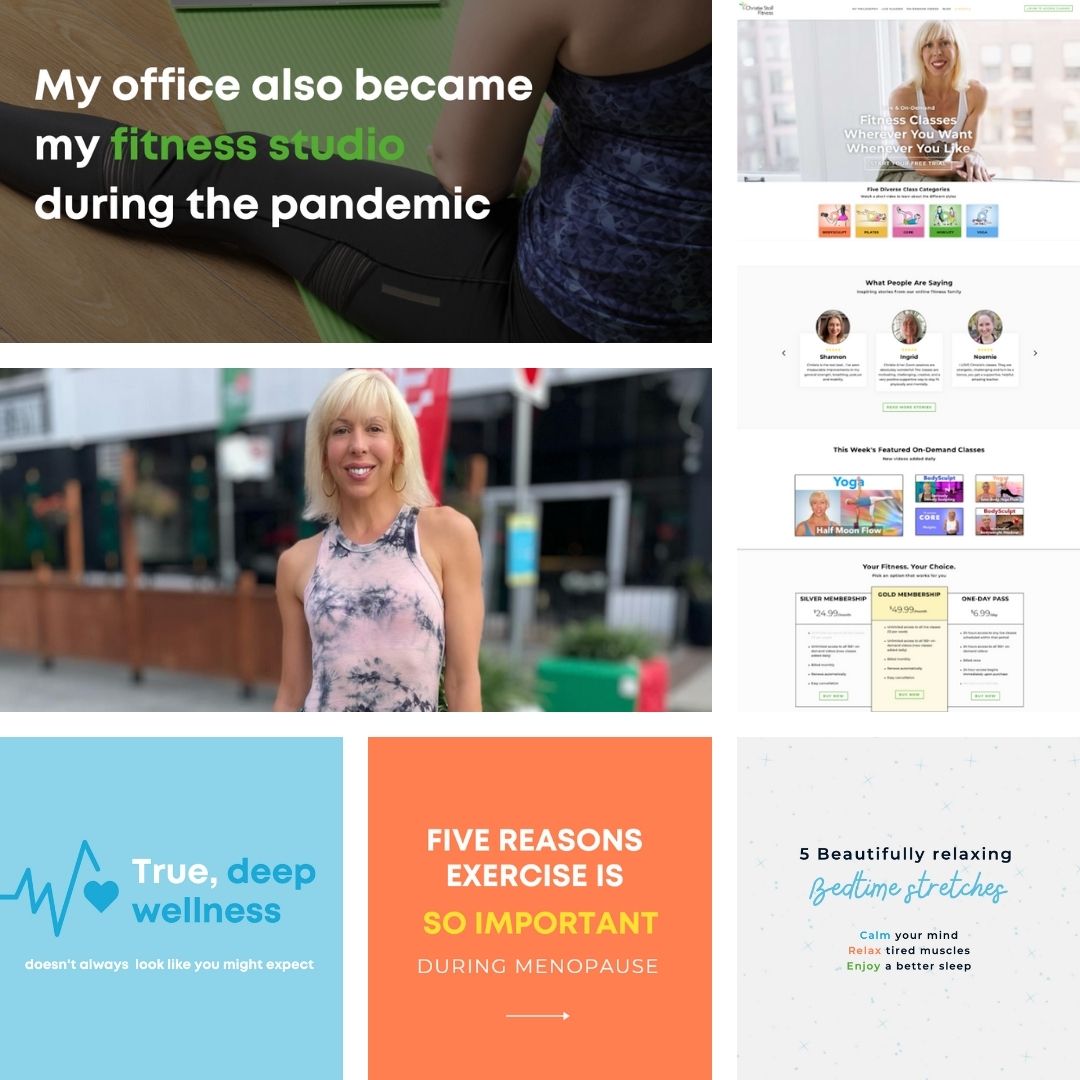 The Outcome
CSF implemented our recommendations immediately—and then some. Their actionable Strategic Social Media Plan was packed with tips, tricks, templates and examples designed to elevate their social content and to drive qualified converting traffic to their website. With the use of the visual ecosystem and social templates we prepared, CSF brought their website and social channels into visual alignment, have dramatically grown their social audience, and they now have the cohesive online community they were looking for. 
Why We Love Them
We love smart, passionate, kind people. Who wouldn't? But that was only part of the reason we LOVED Christie Stoll and her partner Charles Wright, a talented, bright, fully-alive duo who were hungry for knowledge and didn't mind the hard work to truly absorb it. They didn't even wait for our final plan before beginning to incorporate our suggestions. What a dream team! We cheer on their success. (And some of us 40+s are now fitter—thanks to their excellent online program!)