We love working with clients whose do-goodery is palpable, and this is one the world needs to hear more about: Genus Capital Management, a Certified B Corp based in Vancouver, which has been offering custom investment portfolios for more than 30 years.
Genus' innovative fossil-free and impact investing solutions have enabled both individual and institutional investors to play a key role in helping support environmental and climate change solutions around the world.
And with a brand new offering about to launch, Genus needed a fresh approach to its social media marketing strategy.
The Challenge
Despite its pioneering work in the fossil-free and impact investing space, Genus had long promoted that arm of its business separately, keeping its main social channels targeted at a high-end demographic with more traditional wealth management solutions.
But with the launch of a new auto-onboarding tool, Genus was ready to target a younger audience, and knew that putting its sustainable investment initiatives front and centre would be of paramount importance to aligning with the values of this younger generation.
They initially came to us for a content marketing and social media strategy that would help them communicate effectively with — and create a lead funnel for — a younger, social media savvy target audience that cares deeply about the future of the planet. And it all needed to happen in a compressed timeline of six weeks. We've now been working with them for several years to grow and engage this and other audiences, driving qualified leads to the business.
The Work
Through a series of rapid-succession consultations, stakeholder workshops and research methods, we tapped into Genus' competitive landscape, current and new products, existing customer profiles and business goals.We conducted a full analysis of Genus' online channels, analytics and competitive landscape to inform a comprehensive social strategy.
In our initial engagement, we created two fresh audience personas and accompanying user paths and channel plans as part of a full social strategy designed to use content strategically to build a new audience, drive traffic and, ultimately, conversions. We also provided guidance and recommendations on operationalizing the plan. Alongside the strategy we also created a condensed social media handbook – a practical playbook that Genus can implement with internal content creators and external marketing partners. A sample content package showcasing the plan in action rounded out our deliverables.
In the years since we have refreshed their strategy several times, launched two lead-generation campaigns, and deliver ongoing 'story packages' (search-optimized and journalist-penned blog posts promoting services and events, each with accompanying social media posts, stories, and/or Reels and paid ad promotion.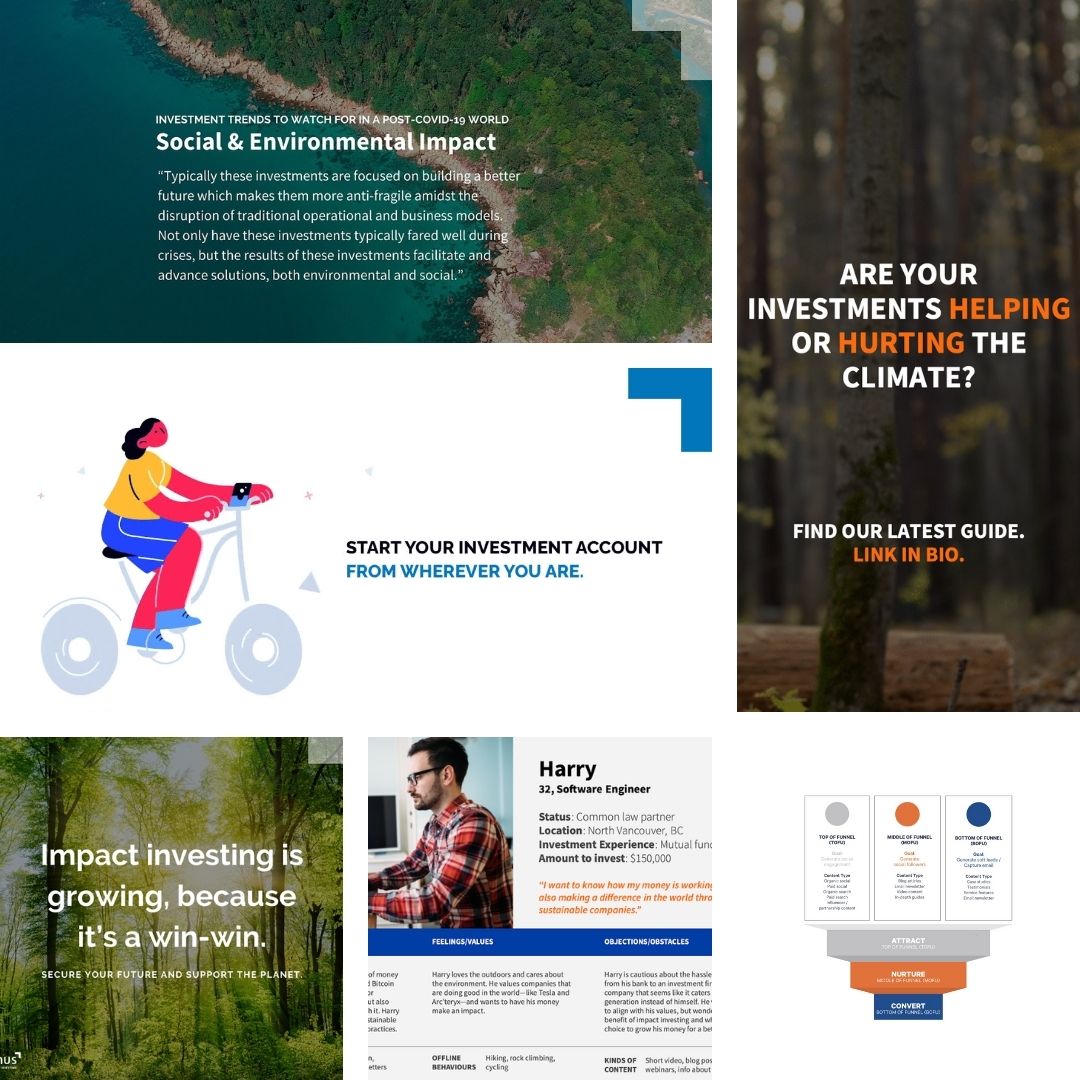 The Outcome
Working with the fabulous Genus team, we have launched and grown an impressive presence on Instagram, in addition to a well-trafficked body of blogs and social content for LinkedIn, Twitter, and Facebook, and consistently hit monthly targets for audience growth, engagement, and social clickthroughs.
Why We Love 'Em
This is environmental action in…well…action. Genus has not only proved that you can create true societal change by investing in companies that practice good environmental, social and governance issues, but also that you can improve your own financial future by doing so. That's a win win for everyone.
Check out more of our work here—and please feel free to reach out to discuss ways we might create strategy and/or ongoing content for your purpose-driven brand.