When the team at Creative Labs approached Forge & Spark Media about teaming up for an app launch, we were thrilled: not only is Creative Labs well-respected and wonderful to work with, but they let us know that we'd be helping a yet-unnamed celebrity to launch a fitness app.
Little did we know at the time that the celebrity in question was music star Carrie Underwood. We kicked off planning in late 2019, and launched the brand's website and social media channels in March 2020. The world warmly welcomed a chance to get fit indoors with one of the kindest (and strongest!) stars on the planet.
The Work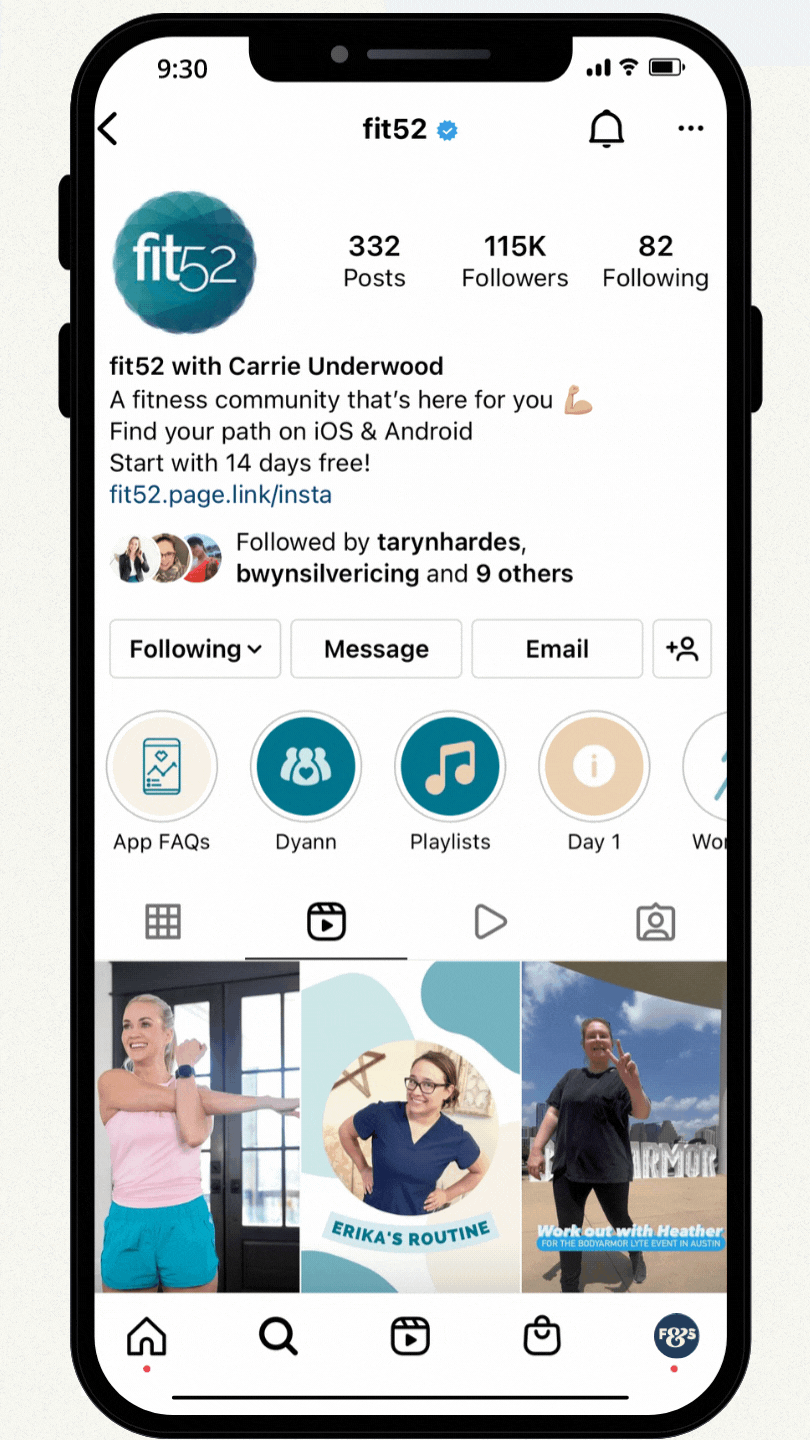 Prior to the brand's launch, our team tackled the overarching content marketing strategy for fit52. This included website recommendations and copywriting, story pillars, target personas, a blog strategy and channel content strategies for Instagram, Facebook, and Twitter.
Once launched, the ongoing social media creative direction kicked in. Seeing a robust Instagram following become established right out of the gates, we pivoted our content strategy to Instagram-first, using stories, carousels, and as much video as we could get our hands on (in a very tricky time). Media appearances by Carrie, user-generated content from the amazing fit52 community, and custom graphics developed by our resourceful team are all part of the mix that designed to engage our audience and encourage them to stick to their fit52 Paths.
From high-level strategy to tiny details like favicons and metadata, the Forge & Spark team has implemented a comprehensive, heart-centric content strategy meant to express the essence of the fit52 brand, and the message that finding your fitness path is a personal, complex, and ultimately rewarding experience that we can all use a little support with. That and: no matter how fit you are, burpees are tough.
The Outcome
In its first single month, the number of fit52 followers on its social channels surpassed 25,000—crushing our initial goals. Social media impressions have surpassed 1 million, and we've seen more than 25,000 clicks on our Instagram bio link. And the app is thriving! There have already been over 15 million reps completed in the app… and yes, our teammates have contributed to more than a few reps ourselves!
Why We Love 'Em
It's, ahem, Carrie Underwood. And she is pure down-to-earth humanness; there's something satisfying about finding out that even country superstars have off days at the gym. We've also seen that with Carrie's fit52 app, we can all enjoy her approach to wellness: every week is an opportunity to be healthy, get active, and find your path. But if you need a rest day? Carrie will be the first to say take a break. There's always tomorrow. Bless her.
We encourage you to check out more of our work here—and please feel free to reach out to discuss ways we might create a killer content marketing or social campaign for your brand (whether you're a celeb or not). 🙂